10 Fool-Proof Ways To Save Money This Summer
Staying cool during hot summer days often means cranking up the air conditioner. However, running a central air conditioner or even a window unit for lengthy periods of time increase energy use. Increases in energy use often lead to higher utility bills. If you want to keep cool and save money on hot summer days, then review a few tips.
HVAC Maintenance
Preventative maintenance of your air conditioning unit will keep it running at peak efficiency. This is a great way to rein in energy use as efficient units use less energy the inefficient units. The preventative maintenance of your air conditioner will restore the unit to 93 percent efficiency or better. A tune-up of an air conditioner involves cleaning dirty components, replacing a dirty air filter, and checking ducts to make sure they are clean.
Circulating Air
One way to feel cool in your home is to circulate air. This can be done by opening one window on each side of the house. Place a box fan in one window so it blows air outside. A fan on low to medium speed will pull air from the other end of the home and create a breeze.
Ceiling Fans
Turn on ceiling fans instead of your air conditioner on mildly warm days. The movement of air coming from the can make any room feel as if it was 5 to 6 degrees cooler. A fan is a cheap way to feel cool as it only costs a few dollars a day when left running for more than eight hours.
Prevent Air Leaks
Cold air that is leaking from your home will cost you money. Common places for air to leak are at your doors and windows. You can prevent air leaks if you seal your windows and door frames with a caulk or weatherstripping.
Set the Thermostat
Turn the thermostat down at night time or when you are not home. Lowering the temperature keeps the air conditioner from coming on when you are not home. This is a great way to lower energy use and to save money. The use of a programmable thermostat is a great option to keep a set temperature. Another option is to install a smart thermostat.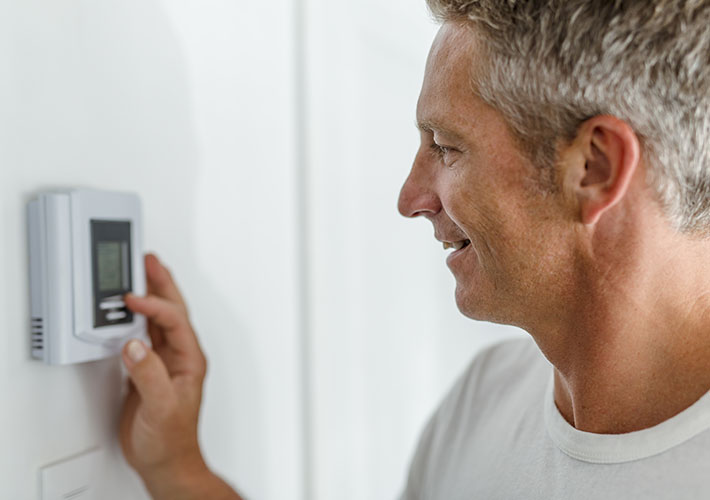 Install Window Film
Windows are a source or solar heat that can increase the temperature of your home. If you cover all the windows on the west side of your house with a reflective film, then solar heat will be minimized. Window film can reduce the load on your HVAC system and reduce your utility bills by up to 30% (click here to learn more).
Create Some Shade
Add a trellis to the west side of your home and hang vines to provide shade. Another option is to add a few trees or build a fence. Any shade that covers your house will help keep it cool.
Use Compact Fluorescent Bulbs
Replace all the incandescent bulbs in your home with CFL bulbs. There bulbs are not as hot as standard incandescent bulbs and will last much longer before needing to be replaced.
Curb Appliance Use
Cooking in the over during summer uses energy in a number of ways. You will use energy when having the oven on and energy to run the air conditioner to cool down the kitchen. If you need to cook food, then use the oven sparingly or heat food in the microwave.
Trim Trees and Shrubs
Trees and shrubs that are not regularly trimmed can block air flow to the air conditioner. Long limbs or branches need to be trimmed and pruned each spring.
ABOUT THE AUTHOR:
Rachel is a blogger who writes on a variety of topics including home improvement, green, and DIY articles. She writes for Aramendia Plumbing, Heating & Air who specialize in air conditioning maintenance in Houston. You can follow Aramendia @GoodGuys1st.
Tell us a little about your project...
Don't be afraid to tell us about your timeline and budget. We are straightforward about our products and pricing and knowing where you are coming from helps us hit the target.