AP Tinting Named 2019 Window Film Magazine Top Window Film Dealer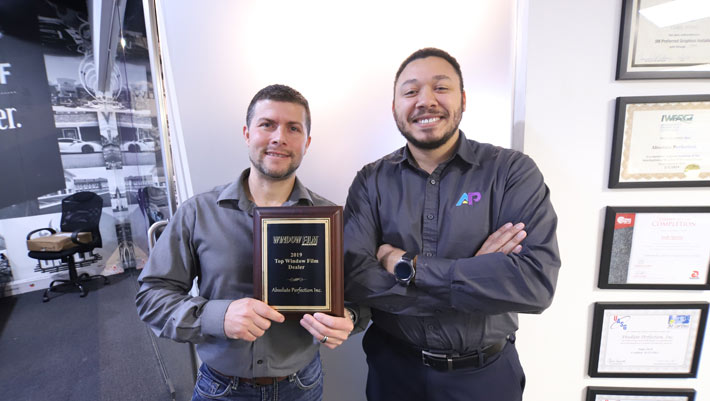 We did it again! AP Tinting has once again won the prestigious Window Film Magazine 'Top Window Film Dealer' award for 2019. This award puts us into a group of other prestigious window film companies across the United States. As show in the screenshot of this year's recipients (below), we are the top window film company in Maryland, and the top window film company in the overall Delmarva area.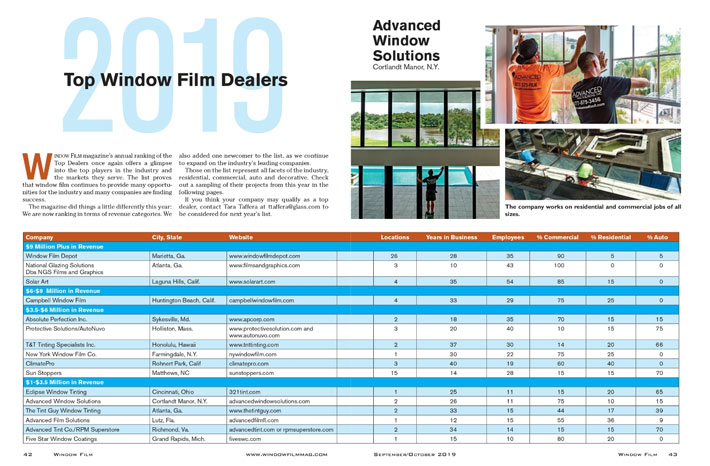 What This Award Means for Our Customers
Receiving the award for the 2019 Top Window Film Dealer proves all of our claims of dedication. Here at AP Tinting, we pride ourselves on finding the best solution for each of our customer's needs. Whether that is making a more comfortable work-space through solar control film, or a more secure environment with security window film. But claims from a company can be taken with a grain of salt unless they have a way to back it up. Not only do we back up our claims with unbeatable service, this award—from the industry's leading publication—independently proves our claims.
Our Commitment to Absolute Perfection
Do you know what AP stands for? When our CEO, Bill Valway, first started AP Corp out of his parent's garage, he wanted a business name that would describe the level of commitment clients could expect to receive. He came up with the name 'Absolute Perfection'. Over time, the brand has evolved and grown into a much larger company, with different branches: AP Tinting and AP Graphics. Each branch carries the AP to remind us what the expectation is: Absolute Perfection.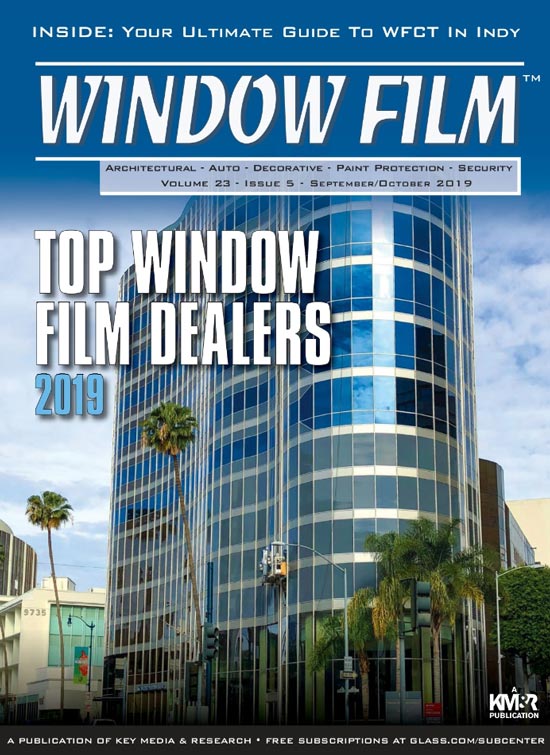 More About the Sponsor: Window Film Magazine
The leading window film industry magazine is Window Film Magazine. Since 2002, the publication has distributed valuable news about the window film industry to over 13,000 subscribers. From architects and engineers to project and building managers; this magazine is the top resource for developing news in the industry. For more information, or to subscribe, visit the Window Film Magazine website today!
About AP Tinting, the 2019 Window Film Dealer
AP Tinting is the leading provider of window film solutions in the United States. Under the direction of our CEO, Bill Valway, we've grown from a single Maryland window film company to a nationwide provider of commercial window film solutions. AP Tinting is a division of AP Corp, which as a parent company oversee a sister company, AP Graphics. AP Graphics is a leading nationwide provider of applied graphic solutions. For more information on AP Tinting, or to get started on your next project, fill out our form below!
Tell us a little about your project...
Don't be afraid to tell us about your timeline and budget. We are straightforward about our products and pricing and knowing where you are coming from helps us hit the target.