Absolute Perfection installs automotive, residential, and commercial window film, as well as frost and vinyl, for Maryland, Washington DC, and Virginia. AP Tinting CEO, Bill Valway, started the company in 2001 out of his parent's garage, with two installers: himself and now COO Tim Cooke. Today, Absolute Perfection has over 25 employees and two additional divisions – Vehicle Wrapping & Applied Graphics, and Media. Each division is bounded by a strong company culture and the drive for excellence.
Our Values, Our Mission
Our company values hinge on innovation, empowerment, excellence, passion, and collaboration between divisions. Each one of us strives to be the best in our specialized craft or trade, where success demands attention to detail and flawless execution. Our purpose is to operate in the crafts and trades where art, attention to detail, and specific skills such as hand-eye coordination and story telling come together, providing a positive experience for our clients, team members, investors, and strategic partners.
Bill Valway, CEO
From humble beginnings to a bright future. Starting in the industry working for another window tinting company, Bill quickly expanded his knowledge and skill set. Coming from a family of entrepreneurs, he saw potential in himself and a lack of leadership in the company he was working for. After acquiring the skills he needed, Bill left the company he was working for and set out on his own. With one work van and some business cards he began to build reputation and serviced dealerships/stereo shops on site and out of his parents garage. Today, he runs a rapidly growing company with three diverse divisions.
Tim Cooke, COO
Tim knew Bill through mutual friends and was in need of some tinting service when he bought a new truck. He didn't have the money to pay Bill to tint his truck immediately, so he waited and kept in touch with him. After running into each other a couple of times, Tim started asking about positions opening up to work with Bill. Bill finally caved and said he would give him a shot. Within 12 months, he was running around on tinting jobs, continuing to build the brand. Today, Tim manages a full team of installers and continues to help build the AP name.
Bill Valway and Tim Cooke, 2014.
The AP team is always growing. Whether it's new industry practices, the latest products on the market, or additional team members, our numbers are climbing. Absolute Perfection now has two additional divisions – AP Media and Absolute Perfection Vehicle Wrapping and Applied Graphics.

Our wrap & graphics team tackles anything from huge fleet vehicle wrap projects to building wraps and wall murals.

Our media division offers custom website design, online marketing strategies, and high quality video production.
Apply to be part of the AP Team, we're always looking for motivated new people to join!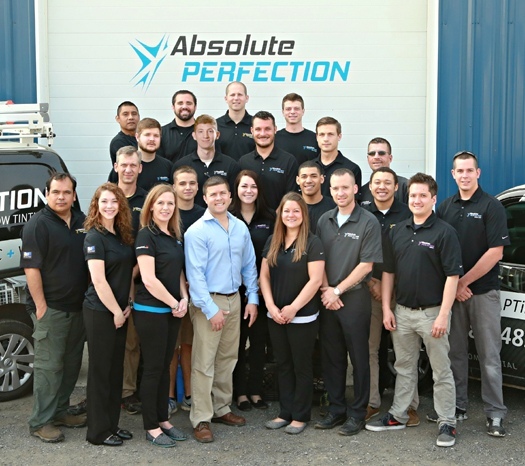 The AP Team, 2015.