Cold Weather's On Its Way to Baltimore, Maryland – Are You Using the Right Window Film?
Ahh Baltimore, home of Purple Fridays, Berger cookies, and Natty Boh. Oh boy, what a place to live! But if you're a Baltimore hon like myself, you already know Baltimore is also one of Mother Nature's least favorite children. With weather is like no other, Maryland is known for it's unpredictable temperature ups and downs.
I bet all of this extreme weather talk is making you cringe. Just think about those HVAC bills… Well, if you are using the right window film, the thought of the winter to come shouldn't be so bad.
Did you know the average home loses $63 per month on energy? That's $760 out of pocket every year! Click here to use Vista's energy savings calculator and see how much you could be saving with Enerlogic Window Film from Vista!
Similarities in Films
Both Enerlogic and Prestige 3M are non-corroding and UV resistant. This means they don't require sealant or special care and you don't need to worry about your furniture fading. Both films block 99% of UV rays! That's pretty impressive.
The most important similarity between the two films is the solar rejection. Enerlogic and Prestige 3M both block 50% of solar energy reducing overall cooling costs during those hot summer days.
Same VLT, Different Functions
Although both Enerlogic and Prestige 3M have the same Visual Light Transmittance (VLT) of 70, EnerLogic films increase energy efficiency in the winter while 3M Prestige only increases energy efficiency on sunny days. Want to see how much additional money you could be saving with the installation of EnerLogic film? Use Vista's energy savings calculator to find out!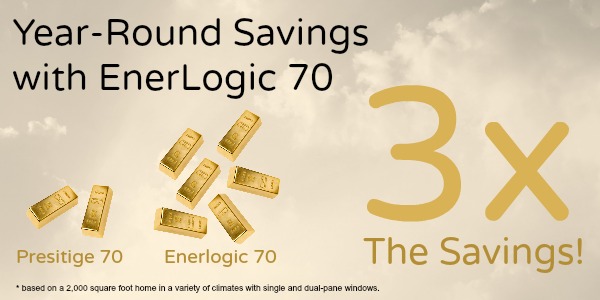 Two Great Films with Clearly Different Benefits
From the charts you can see that there are definite differences between EnerLogic 70 and 3M Prestige 70. Both window films help keep the sun out to keep your home or aid in keeping your building cooler in summer, but only EnerLogic 70 has the ability to deliver year-round savings and improve the clarity of your windows.
Discover how GL Communications will save $101,391.00 more on energy costs over 15 years by using
Enerlogic Window Film. Click here to learn more.  
Now What?
With a great ROI and increased energy efficiency for your home or business, why wouldn't you want Enerlogic Low-E Window Film? If you're interested in installing this one-of-a-kind film, give us a call at (410) 549-4285 or click here to get a free online quote.
Year-Round Savings on Auto Tint, Too?
Many people ask us, should I tint my windows in the winter? What are the benefits? Check out our blog on the benefits of window window tinting for your vehicle.
Tell us a little about your project...
Don't be afraid to tell us about your timeline and budget. We are straightforward about our products and pricing and knowing where you are coming from helps us hit the target.