Fill out the form below or give us a call at (888) 481-8468 to receive a free, no obligation Automotive Tint Estimate. Don't forget to ask about current auto tint specials!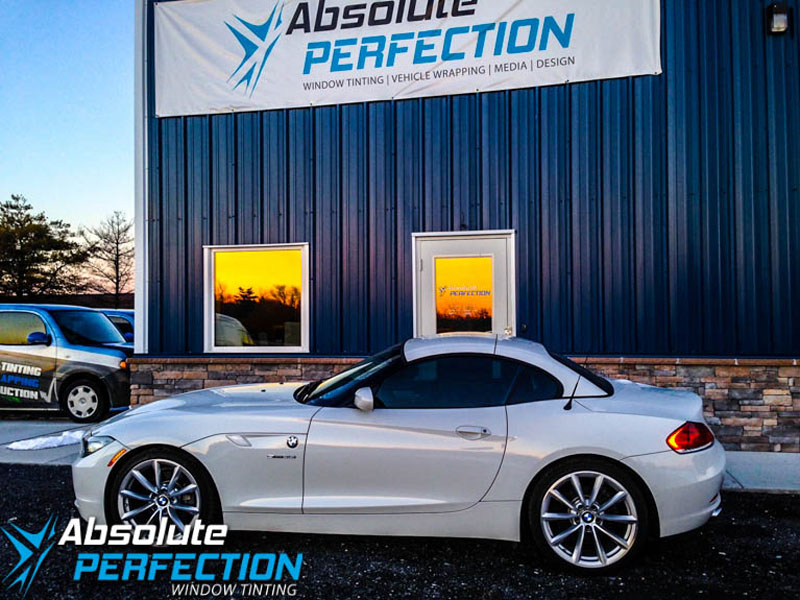 A Word from Our Customers:
Great experience!!! From getting the quote (very quick and friendly response) to setting the appointment and bringing my coupe in to have the windows and windshield done. Just a great customer experience, Becky was great! and knows her stuff! Knew I was going to go with the Pinnacle film but wasn't sure on how dark. They had great examples to look at for darkness which made the decision easy!! Took a little longer than expected (gnat got caught in one of the windows and required a redo). Very professional throughout the whole process and definitely concerned with getting everything absolutely correct before you leave! I wish I had more cars to take back and get tinted…I'd highly recommend using them!
I got my Subaru Legacy 4 door sedan tinted. I decided to go with one of their best films here Formulaone Pinnacle series and I am very happy with the work and film of choice. This place is the only place in the state of Maryland that carries this film. You call anywhere around the DMV area like Rockville and or Northern Virginia, every shop there carries 3M color stables. I am not saying that film is bad but I believe 3M is doing a deal with a lot of the shops here so everyone is carrying that film.This place is far but it is most definitely worth it. My experience here was very very good. I just want to start out by saying this is the ONLY SHOP that answers email. The customer service is great here, the email response was within 30 min. The quote was very detailed and packed full of information and it made my decision coming to Absolute Perfection that much easier. The film comes with a lifetime transferable warranty. All in all I strongly recommend this place and you won't be disappointed!
I went to Absolute Perfection to inquire about having the windows tinted on my 2013 Ram 2500. I was very impressed with the products they offer and the prices seemed reasonable. So this past week I had them install the FormulaOne Pinnacle tinting on the front doors to match the factory glass tint and the windshield. They did an outstanding job and I am very pleased with the outcome. My truck looks great and I love the tinting! I am so impressed with their products and services that I plan on having the factory tinted glass treated with the Air Blue 80 product. Summertime will be a whole lot more comfortable now and my leather seats will be better protected!
I found Absolute Perfection on the internet when looking for a place to get my new vehicle tinted. I was impressed with the huge amount of positive reviews and even though they are nearly an hour away from where I live, I decided to bring my car to them. I got Formula One Pinnacle 30 applied to my whole car (minus the windshield) and it looks really good. There are zero bubbles and from what I can tell there is no dust between the film and window either. Becky was very nice and gave me a tour of their facility while I waited. They've got a TV with Netflix and wifi so the hour and a half install went by quickly.The tint install wasn't cheap but when you consider you're going to see it every single day you drive and it will protect the interior of your car I think it was well worth it. I will definitely come back.
Over the past few decades, I have had numerous cars in various makes and models tinted by a multitude of vendors. I am happy to report that Absolute Perfection is THE PLACE that I have been looking for…no more garage shops for me! Gone are the days of having to worry about your car being damaged by second-rate tint shops. AP is a first-class business that treats you with the professionalism that you deserve. The difference between Tim, Marc, and his crew is that they take personal pride in their work and that they perform the work with great attention to detail. The products they carry are the best in class and the diverse offerings ranging from window tint to windshield protection to decorative graphics make them the one-stop shop for all your vehicle needs. Pricing is extremely fair for the quality and service and the after care is second to none. Do yourself a favor and visit AP Tinting. You will never need to go anywhere else.