Casper Cloaking Film Technology
Designtex Casper Cloaking Film Technology is a new technology that allows you to discuss all manners and topics with the utmost privacy by obscuring digital screens to outside viewers.
Manage the Security of Your Space
Finding the balance between openness and privacy can be a challenge for any business. Whether you're in a meeting or trying to discuss private details, it's essential that you have a space to do just that.
Casper Cloaking Film functions as a smart shield that ensures total privacy while allowing individuals the security they need to discuss any and all business. This top of the line film will soon become a critical aspect of all commercial buildings.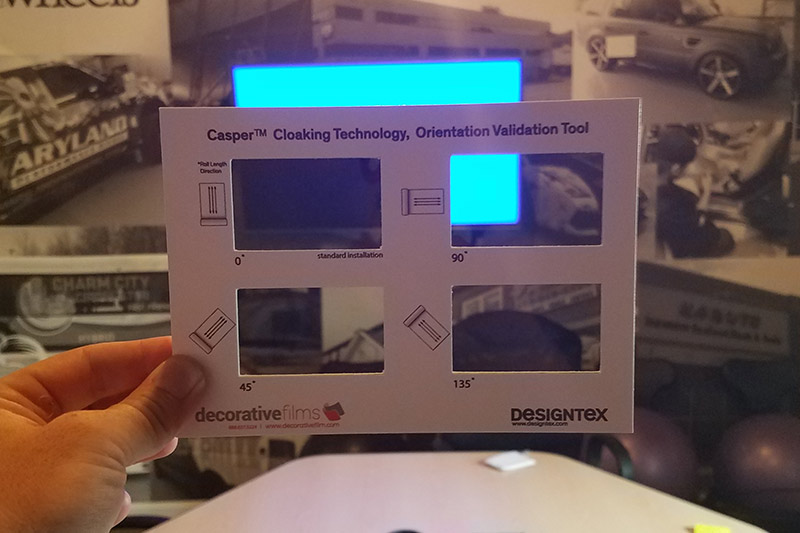 The Chemistry of Materials
Casper Cloaking Film technology is an advancement unlike any in the industry. The content of the technology is 100% Triacetate with an acrylic pressure-sensitive adhesive backing.
This clear film has a five-year warranty and the optimized chemistry is an alternative to PVC with no harmful Phthalates. This breakthrough in film technology has the capability to transform your space within an instant.
How Casper Cloaking Film is Applied
Casper Cloaking Film is applied as any other film at Absolute Perfection: with care and passion. Due to its properties the acrylic pressure-sensitive adhesive backing is tackier than other adhesions. This makes it less than ideal for DIY projects. With that said it requires a professional instillation.
The specific technology enables your surface to have a unique directional effect!
There are many TV and computer screens with different properties and definitions. As a result, this requires us to position the film in a specific angle to achieve the desired effect.
Before the instillation, we survey the space and inspect each surface to determine the optimal angle for installing Casper Cloaking Film. This process ensures that the directional effect will work properly.
You have to see it to believe it!
To get your FREE QUOTE, Click Here!
or Call AP Tinting at (888) 481-8468
Tell us a little about your project...
Don't be afraid to tell us about your timeline and budget. We are straightforward about our products and pricing and knowing where you are coming from helps us hit the target.