Commercial Window Film Montgomery County – Premier Residences of Chevy Chase
(Case Study | Commercial Window Film Montgomery County) Premier Residences of Chevy Chase has a gorgeous restaurant style dining area, wrapped with walls of glass windows looking out onto a the view of the gardens. Additionally, the ceiling features two atrium-style glass structures that allow plenty of natural light into the dining room.

In Spring and Summer, the glass let in a warm, natural light, lending a great ambiance to the dining room at Premier Residences. Then, in late Fall and Winter, the angle of the sun sinks lower on the horizon, the leaves fall off the trees, and the sun shines directly into the dining room, causing huge problems with glare.
The property manager at Premier Residences of Chevy Chase contacted us for a solution, and we proposed glare reduction window film. We offer her a selection of several choices in glare reduction window films for commercial grade double pane glass. She asked us, "Do you install window film in Montgomery County?" And our reply was, "Yes! Many of our best window film clients are businesses, retail stores, and office buildings in the Montgomery County area.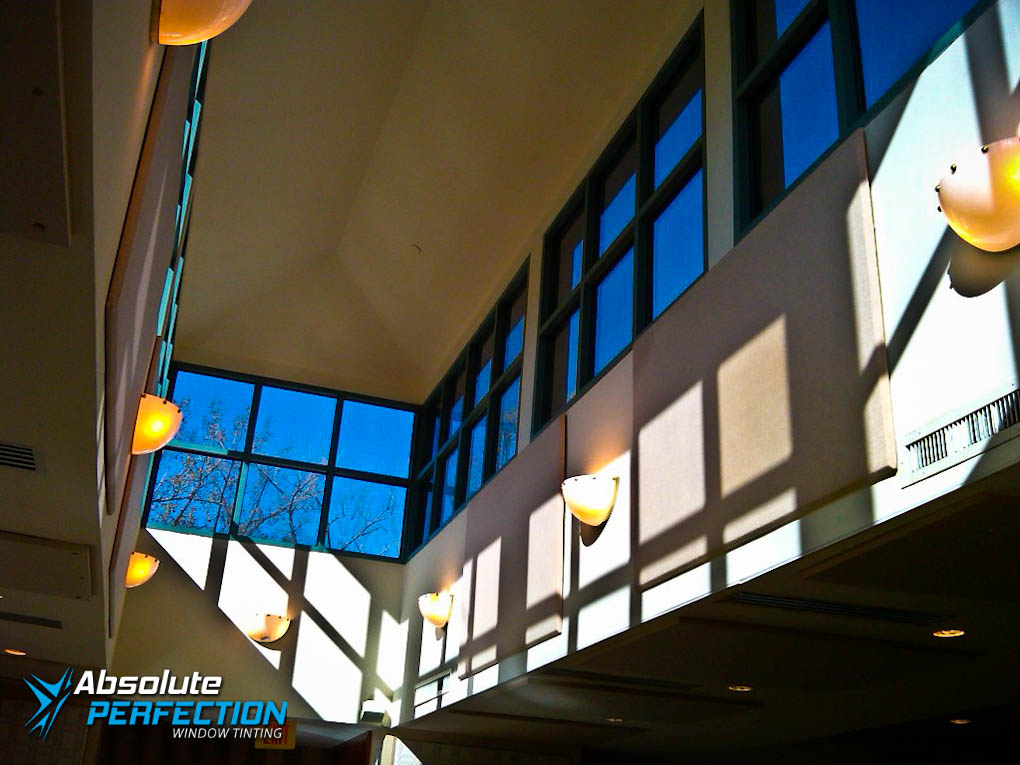 When we went to the Chevy Chase location, we were there at just the right time of year to experience the intense glare coming through the large plate glass windows and atrium skylights. "There are times in during the day that our residents can't even sit in certain parts of the dining area because the sun is so bright," the property manager told us.
We proposed the Vista V31 and lighter V41 Harmony Nano-Ceramic window films. After carefully viewing the two samples the building manager decided on Vista V 31 Harmony. The Vista Window Film "Harmony" series are great for commercial and residential application because they are non-reflective in appearance.
"Non-reflective" films can reduce heat and glare without giving the glass a mirrored appearance. The Harmony V31 gave them a 60% reduction in glare and a 64% total solar energy rejection (Heat).
Helping Premier Residences of Chevy Chase deliver better value to their residents | Commercial Window Film Montgomery County
The resident's were extremely happy with the results of the project, as it made the dining room as comfortable and pleasant in the winter as it is in the summer months. After the slightly tinted ceramic window film was applied the direct winter light, once over-powering, was transformed to a pleasant and soft illuminating light. In addition, the property manager noted that there was at least a 7 degree reduction in temperature.

Your Choice for Commercial Window Tinting Montgomery County, Maryland
Are you having glare issues on your homes or office building? AP Corp has been proudly helping property owners in Montgomery County including the communities of Bethesda, Gaithersburg, Germantown, Rockville, Potomac and Silver Spring for over a decade.
To see another example of a project in which we significantly reduced glare on a commercial project, check out this video of our window film installation at Dulles International Airport:
Tell us a little about your project...
Don't be afraid to tell us about your timeline and budget. We are straightforward about our products and pricing and knowing where you are coming from helps us hit the target.