CoolVu Home Window Tinting Project in Dunkirk, MD
We recently finished up a CoolVu home window tinting project in Dunkirk, MD. Our client, Nate, and his family recently moved into a beautiful new home in September 2019. After moving in they quickly realized their windows let in too much light and heat.
So, they began a search for the best way to block out heat and sun glare without affect the gorgeous view of their backyard. This led them to CoolVu transitional window tint. Check out Nate's full testimonial of his Home window tinting installation in the video below.
Windows on a New Home Aren't Enough
We asked Nate what made him end up looking for window tinting, and his answer may surprise you. Even the newest energy efficient windows don't block out enough of the sun's heat or UV rays. As Nate said in his testimonial video…
"the windows that come with a new home don't block everything. Wood floors, furniture, it's all being hit by UV rays and we wanted to protect our home, protect our investment. Keep it as nice as possible."
Commonly, when a homeowner comes to this conclusion, they will usually think to go for curtains or blinds. So why then did Nate go with CoolVu transitional window film?
Curtains and Blinds Blocked his Gorgeous View
When it comes down to comparing window tint vs. blinds or curtains, it usually boils down to what is most important to you. For Nate and his family, they said what was important to them was being able to "see out into the back yard, you know see the deer walking around, so that was kind of our reason to go that route."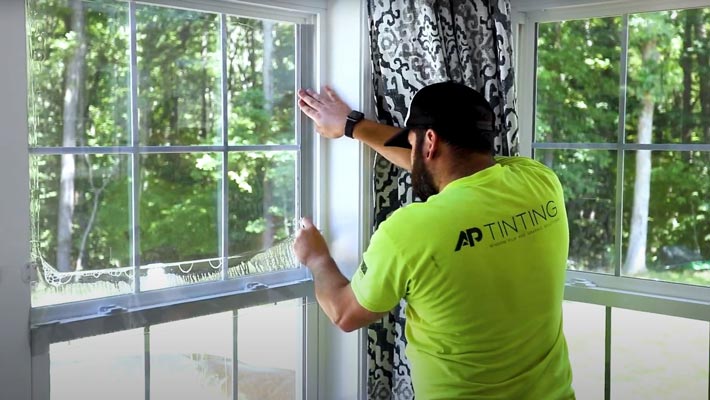 Home Window Tint Cost Less
But it was also about price for Nate as well. What really surprised him was that "window coverings end up getting really expensive when you start looking, and window tinting turned out to be the most cost-effective option." So, they were able to not only retain the view they paid for but do so at a lower price than the alternatives.
The Date of Installation
We pride ourselves on being the cleanest tinting company in Maryland, and we do this by ensuring our service is carefree and painless for our clients. When asked about how the day of the installation went, Nate said:
"The most impressive thing to me was how unobtrusive the install was. We have a lot of windows and it's kind of a big space so I was expecting we'd have to move things around a lot and there would be a big mess. And that wasn't the case at all. It was seamless; it was a simple process. They were able to move a few things out of the way as they went and put it right back in place perfectly. There was no concern. I didn't even feel I needed to be here, they were such nice guys, I could have just let them in and left. And that's not something easy to find."
What Was it Like Working with AP Tinting?
For us, the most important question is always how the client's experience was. After all, that is what we are in business for. In Nate's words, "Our experience with AP Tint, everything they say they're going to do they either do it. They work very hard to meet or exceed your expectations. Could not be happier with the whole process."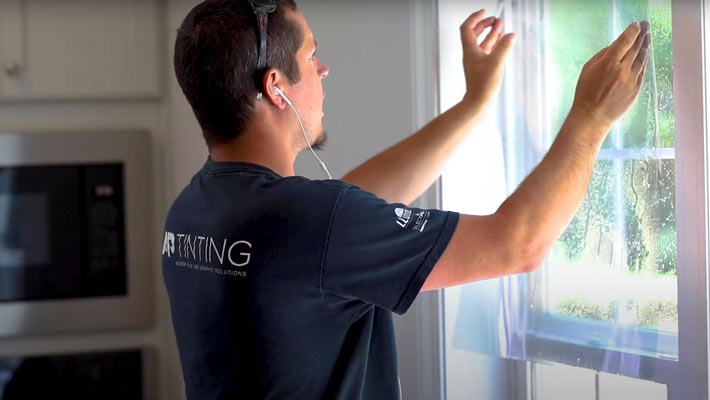 AP Corp is your CoolVu Home Window Tinting Company
As Maryland's certified CoolVu window tinting company, we provide worry-free installations of this unique, transitional window film. For more information on CoolVu, or to schedule your free site visit, get in touch with us today!
Tell us a little about your project...
Don't be afraid to tell us about your timeline and budget. We are straightforward about our products and pricing and knowing where you are coming from helps us hit the target.