Custom Decorative Frost for Whole Foods Market
When you're walking through the parking lot of your local grocery store, what do you see? Ads for a hot rotisserie chicken? Lunch meat on sale? Whereas most franchise grocery stores cover storefront windows with ads, Whole Foods has a little different approach.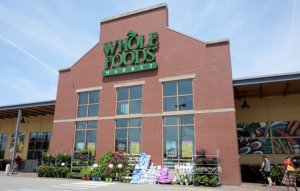 Whole Foods came to us with their own unique design for an exterior set of windows. To differentiate their store from others, our in house design team then took their designs and with a little bit of editing, produced a custom decorative frost film.
Why Decorative Frost?
Whole Foods had several windows that needed privacy, but they didn't want to put up just a plain privacy film. They wanted something a bit more decorative to help carry out their branding. After giving it some thought, they designed a visual that would be appealing from the outside while still providing the necessary privacy.
Design & Preparation
When it came down to choosing a film, we realized we would only be able to access the glass from the exterior, forcing us to use an exterior decorative frosted film. We decided on 3M's Milky Crystal film, a high-style, low cost option for enhancing design and privacy all in one. This film allows light to shine through, another factor that played in the decision of choosing the versatile film.

Since the design was provided by Whole Foods, all Creative Director Brandon Antol had to do was prep the files for production so he could resize them with the plotter. Brandon did all of the cutting and weeding, making the installers job that much easier.
Challenges
Since the film installation was going to take place outside, we had to be wary of the weather. Any rain or strong sunlight would most likely postpone the install.
Luckily, the glass was located under an overhang, so as long as a tornado didn't roll through, our guys would be able to get the job done.
Installation
To complete the film installation to the best of our abilities, we utilized a multitude of tools including a step ladder, 3M Squeegees, and red dot utility blades. The frosted window film installation was preformed in the morning through the early afternoon with rain coming down every so often.
The overhang combated the rain and wind while giving our team cool conditions and more time to work with the detailed material. If the sun was at full strength, they would have had to work much faster as the material would adhere to the surface quicker due to the heat.
Conclusion
Whole Foods was very pleased with the installation and overall look of the frosted window film design. The 3M Milky Crystal film worked perfectly with the design and glass to create a flawless visual appeal.
The Whole Foods project demonstrates the versatility of frosted window film as a very tasteful way to incorporate functionality and aesthetics in one cohesive project.
If your business is interested in receiving decorative film or other commercial window tinting services, give us a call at (410) 549-4285! 
Tell us a little about your project...
Don't be afraid to tell us about your timeline and budget. We are straightforward about our products and pricing and knowing where you are coming from helps us hit the target.