Custom Printed UV Film Provides Privacy for Sunshine Smiles Dental Care
Silver Spring is fast becoming one of the more desirable cities to live. It's the perfect location to set up a business. However, with an influx of arrivals also comes new construction and lots of traffic. For a busy dental office, having floor to ceiling windows lets in lots of natural light, but it also doesn't give much privacy. Dr. Jennilyn McEnroe at Sunshine Smiles Dental Care decided to fix this problem with custom printed UV film.
Custom Design
Of course, Absolute Perfection was excited to take on the challenge! Dr McEnroe wanted a design that covered the bottom portion of glass without being a solid block of color. "We came up with the design idea of a gradient using circle shapes. The pattern would liven up the front façade of the office and still give those inside the privacy they needed" said Chris Fong, VP at Absolute Perfection. The bottom half of the window is filled with the circles which disappear as they move up the glass.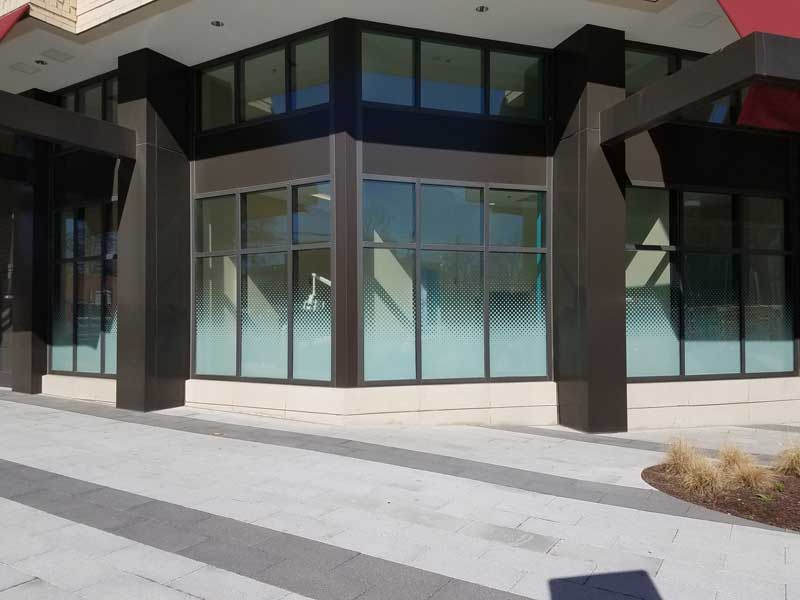 Fast Service
The design was printed using white ink onto clear LLUMAR window film, which lets in the maximum amount of light while blocking 99% of UV rays. Our in-house FB550 advanced tech UV flatbed printer allows us to print large custom orders to go, decreasing delivery time and making projects like Sunshine Smiles Dental Care more affordable for the client.
Designed, printed and ready to go, our installers got on the road. The installation took 2 ½ hours to complete. To extend its lifespan, the custom printed UV film was mounted to the inside of the glass so that the ink is protected from direct light. Tim Cooke, COO, was extremely pleased with the final outcome. "We always work with the client to achieve a product that enhances the values they cherish. Dr McEnroe is thrilled with how the new film will give her clients privacy during their appointments."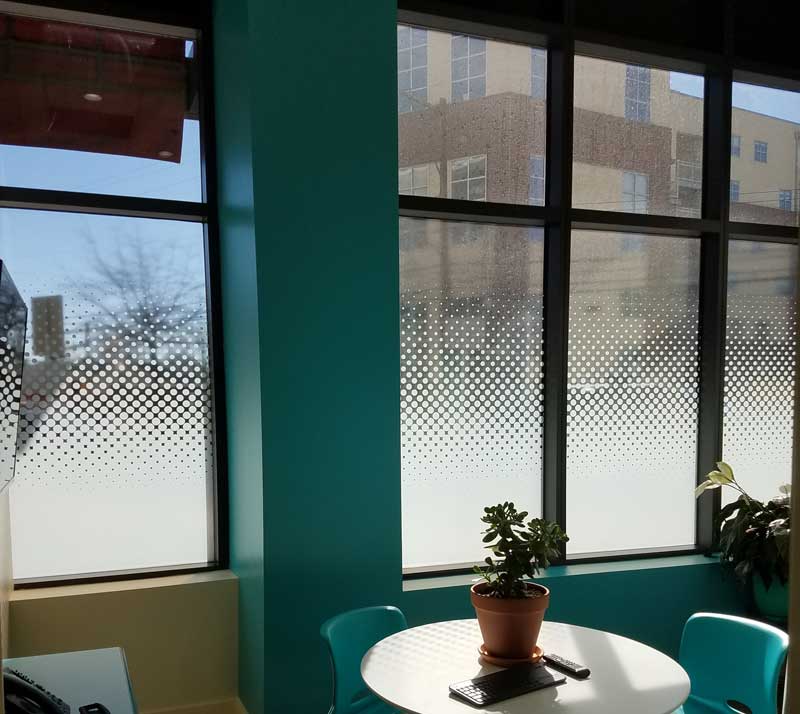 Sunshine Smiles Dental Care now have an office that makes full use of the natural light provided by large panes of glass without sacrificing the privacy of their patients. We're looking forward to doing more work for Dr McEnroe, designing unique graphics that will create a welcoming environment for patients.
Update the ambiance of your office with custom window designs and interior wall graphics. Call Absolute Perfection today at (888) 481-7981 or click here to fill out a contact form.
Tell us a little about your project...
Don't be afraid to tell us about your timeline and budget. We are straightforward about our products and pricing and knowing where you are coming from helps us hit the target.