Decorative Window Film Silver Spring MD – A Case Study
(Case Study | Decorative Window Film Silver Spring MD) OSA Contractors of Owings Mills contracted us to assist them in creating a modern look on both the conference room glass and cafeteria windows of Byte Grid in Silver Spring MD.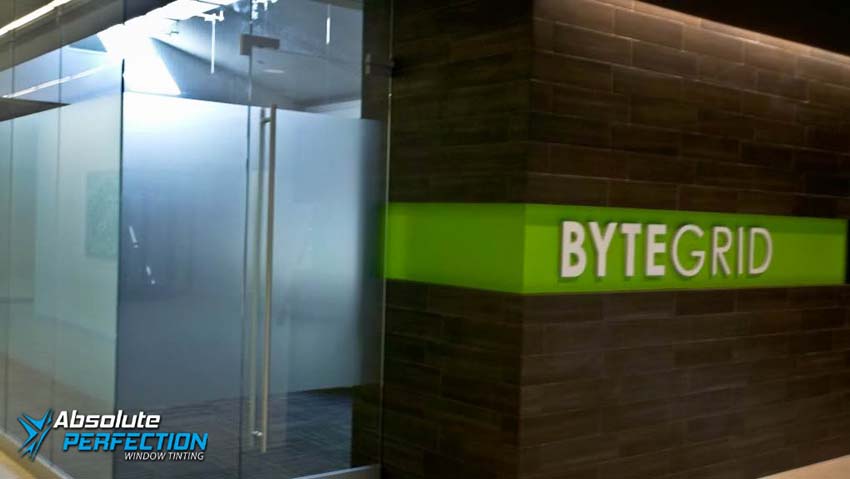 Byte Grid's new office building was completely renovated by Stan Arnold and his team at OSA. Their architects did an amazing job of creating a workspace that was both professional and welcoming to the individual. In fact, when you walk into the main lobby it looks more like a high end hotel than a commercial office.
Two of the Byte Grid conference rooms have floor to ceiling glass. In those areas the client opted to have us install a 60" band of LLUMAR etched glass film. This decorative window film gave the glass a lightly sandblasted appearance which offered total privacy in the meeting area, while allowing natural light to transmit into the space.
Solyx "Clear Waters" | Decorative Window Film Silver Spring MD
For the glass wall that separates the cafeteria from the main hallway, Byte Grid wanted something a little more dramatic. Originally, the architects wanted to make the wall of glass into a water feature, in which water would pour over the glass in a continuous flow.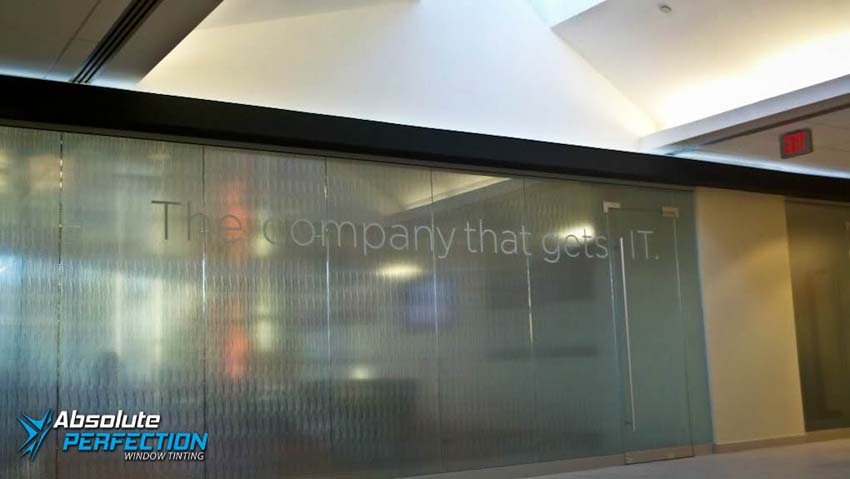 However, the cost to create a custom glass waterfall was prohibitive, so the architects sought an alternative. We recommended a Solyx brand decorative window film. Solyx manufactures hundreds of different textured and patterned decorative and architectural window film products.
We helped the client choose a decorative film called Solyx SX-9000 clear waters, which gave the glass the illusion of a waterfall. Once the decorative window film was installed on all the glass panels, we produced a custom vinyl logo and lettering to add additional style to the glass. The client was very pleased with the privacy and enhanced appearance the frosted window film provided.
Etched Glass Patterns Without Damaging the Glass | Decorative Window Film Silver Spring MD
Custom etched and frosted decorative window films are one of the best products you can use to improve the aesthetics and privacy of office windows. Unlike traditional window tinting it does not darken the glass, and you can add logos and other designs to reinforce your company's branding. Furthermore, frosted designs can be removed or change at any time, without damaging the glass.
Tell us a little about your project...
Don't be afraid to tell us about your timeline and budget. We are straightforward about our products and pricing and knowing where you are coming from helps us hit the target.