Does Window Film Require Maintenance?
Yes, window films require maintenance. Maintenance, while it may not seem like it, is important to the long-term health of your window film. Regardless if it is decorative, solar, or security window film in Bethesda, MD, the wrong type of cleaning can lead to premature failing and voided warranties. So, here's what to keep in mind when performing maintenance.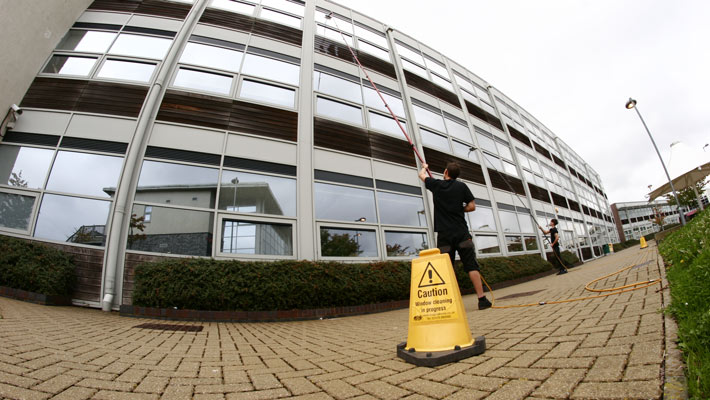 What do we Mean by Window Film Maintenance?
Yes, window films do require maintenance. That said, this isn't like removing the film, treating it in some way, and then re-applying it. We're talking about keeping your windows and window films clean—so they look nice. This is effectively the same type of cleaning you would do with plain windows; only that the method of cleaning your windows MUST change.
Window Film Maintenance
Proper window film maintenance is key to ensuring your window film will last for decades. It's also the difference between having a voided warranty or not. Here is what, what most manufacturers recommend using when cleaning their window films…
In a spray bottle mix ½ part distilled water, ½ part isopropyl rubbing alcohol, and 3 drops of liquid dish detergent. Shake well.
Mist the window lightly and uniformly with the cleaner. Using a clean, soft, cotton or microfiber cloth gently dry the window. Pure rubbing alcohol on a cotton cloth will quickly dissolve the heaviest smudges and greasy fingerprints.
Residual glue or adhesive from masking tape, Scotch tape, or decals that have been applied to (and removed from) the filmed window may be quickly and completely removed by very gently stroking the affected area with a soft cotton cloth dabbed with pure ACETONE (nail polish remover). Acetone in small amounts is harmless to polyester films but immediately dissolves adhesives and most paint over-spray, evaporating completely.
Never use razor blades, scrapers, or abrasive cleaning compounds on window film products.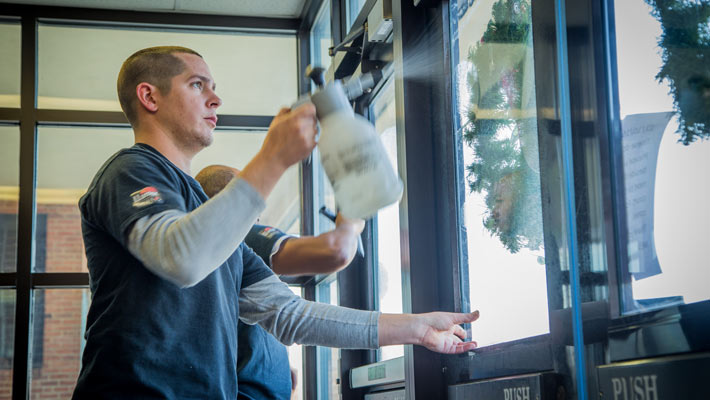 Avoid Ammonia-based Cleaners
It is worth noting, that many manufacturers say it is safe to use common household window cleaners like a household strength Windex. That said, we strongly recommend staying away from any ammonia-based cleaners. These types of cleaners can cause the film and/or its adhesive to quickly breakdown and fail—and can void warranties.
Don't Void the Warranty
If you are given a warranty, you read the warranty. We can't recommend this enough. By reading the warranty, you will be able to identify any of the cleaning solutions the manufacturer says are harmful to their specific film. Additionally, you will be able to identify which cleaning solutions will (if used) void your warranty. So regardless if you are getting a Bethesda, MD decorative window film, or a security window film in DC, read the warranty.
Your Local Window Film Solutions Provider
Here at AP Corp, we are the leading provider of window film solutions, nationwide. So, whether you need security window film in Bethesda, MD or in Cleveland, OH, we are here to help! Give us a call today and let's get started on your next project!
Tell us a little about your project...
Don't be afraid to tell us about your timeline and budget. We are straightforward about our products and pricing and knowing where you are coming from helps us hit the target.