Dominion Power and Honeywell Team Up with AP Tinting to Offer Window Film Rebate and Energy Audit Program in Virginia
Over the past few months, the team at AP Tinting has worked with Dominion Power and Honeywell to set up a rebate system to help customers save money. By explaining how the window film can significantly reduce the overall energy consumption of a commercial building, they were able to come up with a three-tier (non-residential) rebate system that went into effect July 1, 2014! Continue reading below to find out how this program can help you save on your energy costs.
To speak with an Absolute Perfection representative, call (410)-549-4285 or click here for a FREE energy audit!
How the Rebate Works:
After purchasing window film, Dominion Power commercial customers will be eligible to receive a one-time rebate that corresponds with efficiency of the film purchased. Check out the three-tier chart below based on the overall improvement of the performance of the glass after we apply the film to help you calculate your potential savings!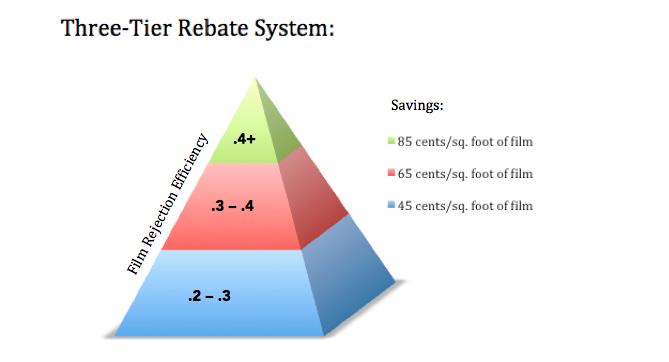 The Breakdown:
If the Solar Heat Gain Coefficient (SHGC) of the window film = .2
That means the amount of energy able to transmit through glass = 20%
Which means the Film Rejection Efficiency = .8 or 80%
Meaning you could save 85 cents per square foot of film purchased.
Running The Numbers:
To show you how significant the savings can be, we did a mock case study for this rebate using a 3 story office building (approx. 45,000 square feet of office space) in Richmond, Virginia.
The building owner purchased 14,325 square feet of Vista window film, saving them $18,000.00 annually on utility bills. In addition they will receive a $12,176.00 rebate check from Dominion Power.
Hidden Benefits:
Rebates are great, but guess what – the rebate isn't even the best part. Purchasing window film will not only get you a rebate, but it will also save you money on energy consumption in the long run!
There aren't many rebate programs available in Virginia and a lot of these commercial buildings have clear inefficient glass, meaning they're getting cooked by the sun. Most of these companies want to do additional energy saving measures, but just don't know about the significant benefits of solar control film. A rebate program like this will draw attention to such significant overall savings that can benefit everyone. Get a free energy audit today!
"I think that the implementation of a rebate program like this is going to help a tremendous amount of property owners and commercial building owners, in Virginia, and ultimately, it's going to save a lot of energy in the state of Virginia. We're really excited to be on the forefront of this program."
–Bill Vallway, CEO of AP Tinting
Just think; this could be you saving all that money. If you're interested in the window film for your residential or commercial building in Virginia, contact AP Tinting here for more information.
Tell us a little about your project...
Don't be afraid to tell us about your timeline and budget. We are straightforward about our products and pricing and knowing where you are coming from helps us hit the target.