Energy Efficiency with Window Film – Charles Benton Building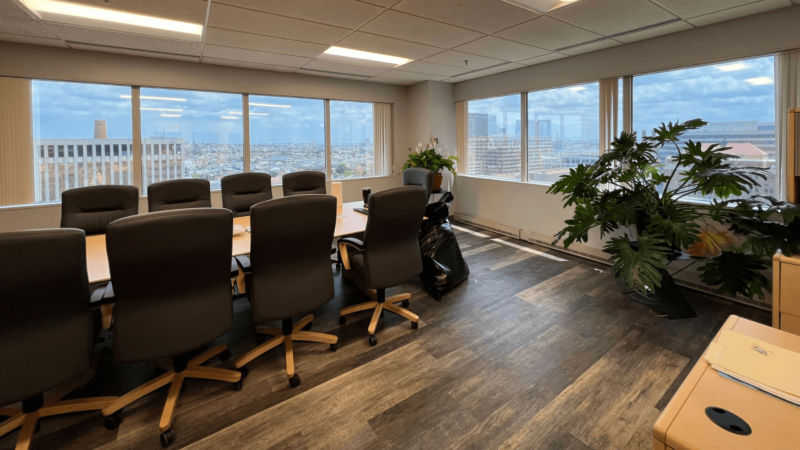 If you're a Maryland resident that has looked at your BGE bill and wondered what that surcharge for EmPOWER Maryland is, we're here to give you a real-life example: the Benton building in Baltimore, Maryland. For two weeks in late July 2022, the AP Tinting team worked to improve tenant comfort and energy efficiency at the Charles Benton Building by installing window film on 500+ windows through the Baltimore City Solar Control Film project. Read on to learn more about our energy conservation efforts in Baltimore City.
The Baltimore City Solar Control Film Project & EmPOWER Maryland
If you're unfamiliar, EmPOWER Maryland is a surcharge on your monthly BGE bill that feeds into a group of funds used for energy conservation efforts throughout the state. These funds are then awarded on a grant-by-grant basis based on need.
In March of 2022, AP Corp earned the opportunity to take part in the EmPOWER Maryland mission by winning the Baltimore City Solar Control Film Project bid. Through this bid, our company is embarking on a 5-year contract with Baltimore City and quickly moved to complete our first project at the Benton building in July 2022.
Meet the Benton Building
The Benton Building, named after the late Charles L. Benton, JR., is a 14-story building in Baltimore City that is home to several government agencies including the Housing Authority of Baltimore City, the City Planning Department and the Election Board. To put it simply, some of the Baltimore City government's most impactful work is handled.
Since construction of the Benton Building in 1978, the space has had many renovations to address it's challenges of user comfort. Tenants and management have long shared their concerns about the building's overtaxed HVAC systems, uneven heating, and high energy use. While one person sat in an office-turned-sauna, another was blasting the heat to stay warm.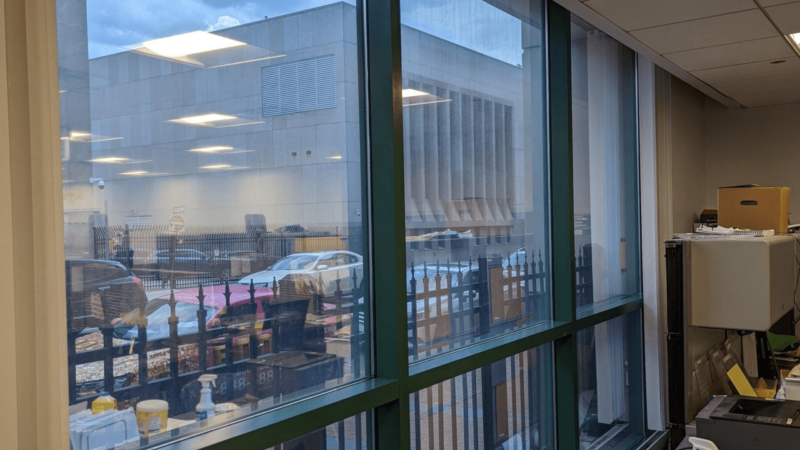 Meet Frank Lee
Even visitors and passers-by noticed the energy efficiency issues of the Benton Building. How do we know? We spoke to Frank Lee, Energy Contractor for the Department of General Services, Capital Projects and Energy Division.  Lee and his dedication to energy efficiency have been a leading force behind numerous projects at Benton and other City properties since 2014.
As an energy contractor and building analyst, Lee conducts audits of city structures by analyzing building envelopes. He does not jump to full renovations that disrupt day-to-day business. He analyzes utility  data, takes in the whole building, and investigates indicators of wasted energy. Lee really leaves door unopened, no crawlspace un-crawled. A tiny crack in the wall could be a clue to discovering a major defect, a clue improvement in energy efficiency.
We at AP Tinting have worked with Frank Lee on several previous installations, and we were excited to work with him again on a project of this magnitude. To maximize the client's benefits from installing this window film, they'd need a certified company and BGE partner to do the work. That's where AP Tinting comes into play.
Enter AP Tinting and Energy Efficiency Window Film
At AP Tinting, we believe that exceeding the expectation is the expectation, so we knew we had to go above and beyond to win the Baltimore City Solar Control Film bid. So, we leveraged our status as a certified BGE partner and recommended a film known for maximizing energy conservation.
The recommended film, LLumar R-20, has a solar heat gain coefficient (SHGC) that is well below 0.40; meaning it is proven to reduce the strain on HVAC systems by rejecting excess heat. It is also a BGE rebate-qualified product when installed on the East, West, and South facing windows of a building or residence. This film qualifies for a $1 rebate per square foot, earning a $17,743 rebate in total.
The Impact
At the Benton, we successfully installed window film on over 500 windows on the 14-above-ground stories. That means tenants at the Benton are enjoying a more comfortable environment, building managers are saving on energy, and Maryland is that much closer to carbon neutrality. 
There's a lot of satisfaction to be gained from a job well done, but the biggest reward in this project is the rave reviews of the tenants and our partners alike. Mr. Frank Lee shared that those tenants who enjoyed the view of a corner office are finally enjoying a comfortable space. In regard to continued work of the Benton building, Lee has this to say:
"No one measure reduces all problems. But this literally takes the heat off."
What's Next
No one can tell the future, but we can tell you that we have five buildings coming up that are in major need of Low-E window film. We hope you continue to follow us along on this journey as we complete the work included in the Baltimore City Solar Control Film bid. But in the meantime, read about the energy-efficient window films AP Tinting has to offer your business.
Tell us a little about your project...
Don't be afraid to tell us about your timeline and budget. We are straightforward about our products and pricing and knowing where you are coming from helps us hit the target.