The Complete Fleet Window Tinting Guide – 2021 Edition
You have a lot of important decisions to make in regards to your fleet. While some decisions are easier than others, we hope this comprehensive guide to fleet tinting in 2021 helps make this decision easier on you.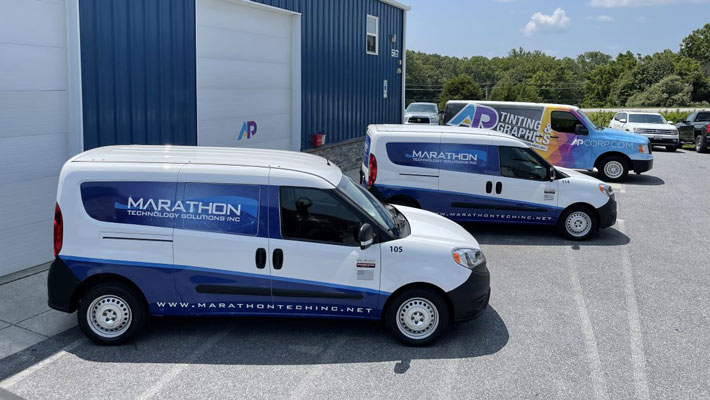 Why Should I Tint my Fleet Vehicles?
With any business purchase or decision every good manager weighs the pros and cons. So, if you're a fleet manager asking yourself, "why should I spend money on fleet tinting?" we've listed the main benefits to tinting a fleet below:
Improved employee happiness. Happy employees are more productive employees. Show your drivers how much you care by making their drive more comfortable.
Filters out UV rays. Ultraviolet (UV) rays are the part of the sun's light which cause various skin issues including cancer or melanoma. Protect your employee's health with window tint that blocks out over 99% of UV rays.
Prevents color fading. Those same UV rays which cause skin damage also damage your vehicle's upholstery and anything else left in the vehicle. This leads to premature fading of the color in your seats, as well as any merchandise or equipment in the vehicle.
Cuts down on AC running costs. Not that running your vehicle's AC costs that much, but as every fleet managers knows, cost savings add up. Window tint makes a vehicle better retain its internal temperature while also reducing heat gain. This means less need for the windows down or AC running; this leads to less wear and tear on the AC system as well as a reduced fuel expense.
Blocks out sun glare for better driving safety. Window tint effectively blocks out annoying sun glare hitting your eyes. Not only is this going to make the drive more comfortable, by blocking out sun glare you are preventing dangerous loss of vision which could lead to serious accidents.
Tinted vehicles are beautiful. Tinted vehicles—and this includes work vehicles—look classier and more professional with tinted windows. Think of it like the difference between someone showing up to a job interview in a polo shirt and a suit and tie.
Compliments fleet wraps. Many color palettes used on fleet wraps will go well with tinted windows. The extra darkness from the tinted windows can compliment the darker colors in a vehicle wrap. It's just a better, more thought-out look.
Reduces visibility into vehicles for less theft. By tinting your fleet vehicles you are also reducing the ability for people to see inside your vehicles. This reduces a criminal's desire to smash your windows to get to any expensive equipment visible in the vehicle.
What is the darkest I can tint my fleet vehicle?
The darkest you can tint a fleet vehicle in Maryland is 35% VLT on the front windows. The front windshield cannot be tined below the AS-1 line or 5 inches if there isn't one. The rear windows in sedans and coupes can also only be 35% VLT or lighter. When you are talking about SUVs, Vans, and other vehicles with a 3rd row of windows you can effectively tint all those rear windows even darker.
Window tint laws can be very different depending on what state you operate in—so be sure to check local laws. Additionally, you will want to be mindful of how tint laws carry over from state to state. So if your fleet is frequently traveling across multiple state boundaries, it would be smart to stick to the strictest of laws.
How much does it cost to tint a fleet vehicle?
Pricing for window tint varies greatly based on the size and complexity of the project. Generally speaking, pricing for tinting a fleet pick-up truck would start around $159 for all sides and rear window, once you move to a crew cab, that price increase to starting at $209. Here are more auto tint prices to help you find a price for a one-off project.
Don't forget to ask about bulk pricing. If you are planning to install new fleet wraps at a shop who also does tinting, ask about getting a bundled price. The same goes if you plan to tint 10-15 vehicles at the same tint shop. Most tint shops are more than happy to reward customers with some cost savings if they bring more than a single vehicle's worth of business in.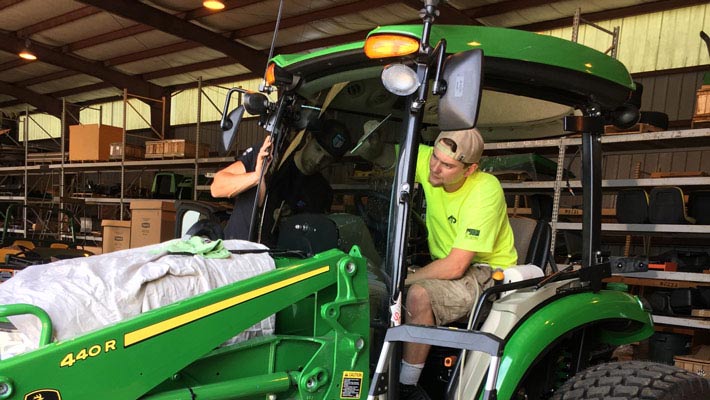 4 Things to Keep in Mind When Finding a Window tinting Company
So if you've decided you want to tint your fleet, here are some things to keep in mind when selecting the company you want to partner with.
Get your fleet wrapped and tinted at the same time. Many fleet wrap shops often tint vehicles as well. Having these services performed at the same time will often save you time and money. So if you plan to ever have your fleet tinting, having it done at a one-stop-shop saves you money.
Work with a certified window tinting company. Window tinting companies are a dime a dozen. So take the time to research the company you plan to work with to ensure they are certified by the top window tinting manufacturers. Look for LLumar SelectPro certified and and 3M certifications as these are the top in the industry.
Check out online reviews. Window tinting is a highly reviewed industry. So check out a company's reviews on places like Google to see what other customers think of their auto tinting services.
Be brand conscious. It's important to note that the best window tint can only be purchased by an authorized dealer. The best brands have a higher tier of window films which can only be installed by a certified company. This is to ensure that the finished product will never leave a customer unhappy. For help deciding on the best film, here is our post detailing the best automotive window tint in 2021.
AP Tinting is Your Fleet Tinting Company
AP Tinting is a division of AP Corp. At AP Corp, we specialize in window film and applied graphics solutions. So what this means is, we are not only one of the nation's top fleet tinting service but—through our AP Graphics division—we are also a leading fleet graphics company as well! So if you're looking for any help with your fleet's tint or wraps get in touch with AP Corp today! 
Tell us a little about your project...
Don't be afraid to tell us about your timeline and budget. We are straightforward about our products and pricing and knowing where you are coming from helps us hit the target.