The FormulaOne Lifetime Warranty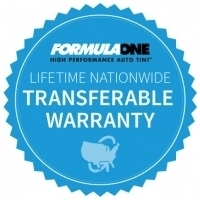 As the only FormulaOne Window Tint dealer in Maryland, AP Tinting is able to offer all of our FormulaOne clients the manufacturer's lifetime warranty. FormulaOne High Performance Auto Tint is initially sold with a lifetime warranty by the manufacturer, Solutia Inc.
This warranty protects against:
Cracking
Crazing
Demetallizing
Delaminating
Color Change
This is the manufacturer's sole warranty. The manufacturer disclaims all other warranties of any kind inclusively.
If the product is found to be defective, (experiences any of the defects listed above) it will be fully replaced at no charge to the vehicle owner by a FormulaOne dealer. It's the vehicle owners responsibility to provide the vehicle, at his/her expense, to the facility of the authorized dealer. The warranty card and proof of purchase, showing the type of film and date of installation, must be presented to the Maryland FormulaOne window tint installer to be eligible for warranty service.
The FormulaOne Lifetime Warranty is transferable as long as the original Warranty Card is presented and identifies the vehicle of the original FormulaOne Performance Automotive Film install.
Depending on the state laws, your warranty rights may be affected. Solutia Inc. products are to be used in compliance with all applicable laws in which the vehicle is registered. Illegally installed tint is not covered by warranty for any reason. It is the responsibility of the vehicle owner to ensure the film is in compliance with all state laws should vehicle registration change. Certain restrictions apply.
Tell us a little about your project...
Don't be afraid to tell us about your timeline and budget. We are straightforward about our products and pricing and knowing where you are coming from helps us hit the target.