Fragment Retention Window Film in Washington, DC
Let's picture a scenario. You're at your local bank, making a deposit. Everything is calm… until… SMASH! CRACK! CRASH! A gentleman driving a pickup trunk is now inside the lobby of the bank. While this was an accident, a lot of destruction is left in the wake. As you see the driver step out, you peer above the roof of his truck and notice the bank's windows are still held together in one piece even though the glass is shattered into millions of pieces.
How did this happen? Fragment retention film.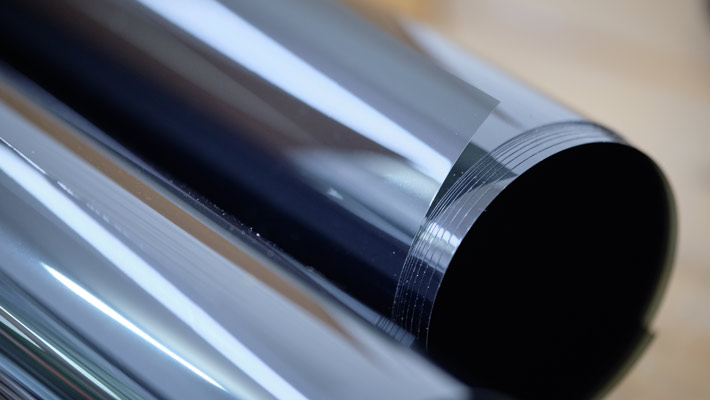 What is Fragment Retention Film?
Fragment retention film is a fairly straightforward concept. In short, this type of window film is engineered to hold any shattered glass together if it breaks. Security films, like fragment retention window films, are applied directly to existing glass using adhesives and attachment systems designed for this type of installation.
When glass is broken, the film holds any of the broken pieces of glass together. Put differently, this film retains any fragments of glass and encapsulates them within the film.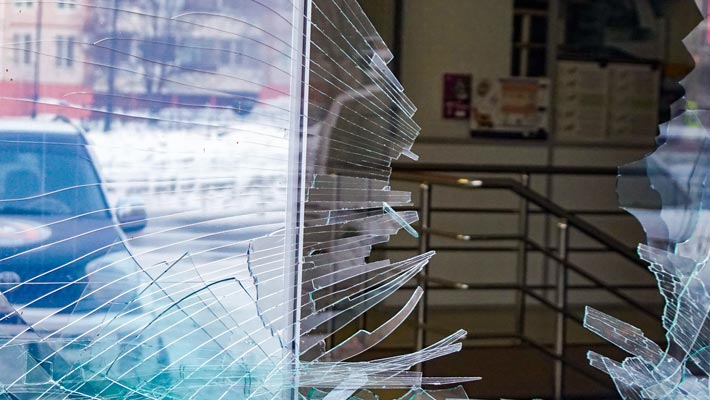 How Fragment Retention Film Keeps You Safe
Fragment retention window film keeps you safe by holding broken glass in place. In the instance of a bomb blast, the actual blast itself is usually not what causes the most damage—it is the projectiles. Debris like flying glass passing through the air at high speeds can cause massive damage to people. Even if the windows are tempered glass, and the shards aren't as sharp as regular glass, when it travels at high speeds the results can be deadly.
So, your Washington, DC security window film keeps you safe by holding any of these glass shards in place; while also holding the entirety of the glass itself anchored to the window frame.
The result? Your window's glass will be broken—but held in place. Clean-up will be minimal if at all and—regarding your windows—all you will need to do is handle replacing the windows.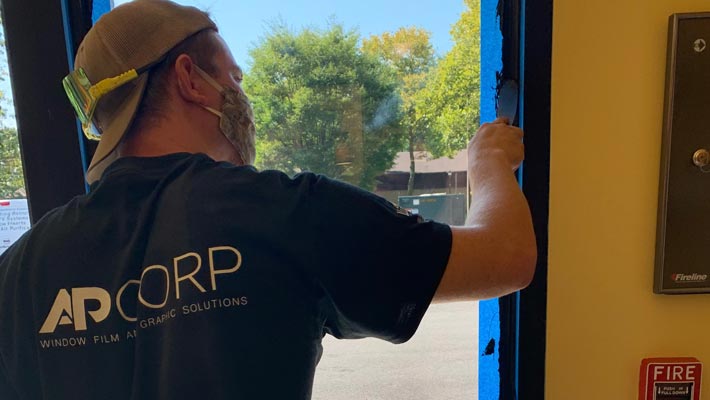 What Affects the Effectiveness of Fragment Retention Film?
The thickness of this security film determines its strength. So the thicker the film, the stronger the film. These films are also reinforced even further when applied with a window film anchoring system. Once such example is the pentagon attachment system which anchors the fragment retention film to the window's interior framing. Caulking is also a window film anchoring method which will use DOW 995 to attach the window film to the glass and frame in one application.
Your Certified Washington, DC Fragment Retention Window Film Installer
For more info on fragment retention window films, get in touch with your local, certified installer today! In Washington, D.C., AP Tinting is your local fragment retention window film company. So if you're looking for a quality, warrantied installation by a certified installer, contact the leading Washington, D.C. security window film company, AP Tinting, today!
Tell us a little about your project...
Don't be afraid to tell us about your timeline and budget. We are straightforward about our products and pricing and knowing where you are coming from helps us hit the target.