Glare Reduction Film
Open your blinds, shades, or draperies and let the sunlight in. Vista and LLumar glare reduction window film reduce glare by up to 94%!
Don't Sacrifice Your View
Glare control is a simple matter of reducing the transmission of visible light, just like when putting on a pair of sunglasses. The darker the film you select, the more light it will block and the more glare it will reduce. And because Vista and LLumar film is available in a variety of light and subtle shades, you'll be able to enjoy your view without even knowing it's there.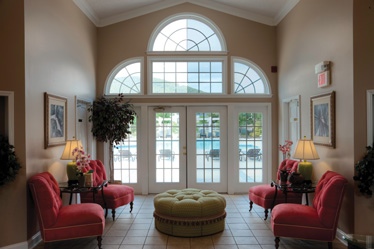 Anti-Glare Film Customized to Your Needs
Don't want to go too dark? We offer a wide range of films to choose from, from light to dark.  Each film has a light transmission number (we call it VLT in our industry for Visible Light Transmission).  The lower the number, the darker the film.  For example, a 5% film transmits 5% of the light and filters out 95%.  A 20% film transmits 20% and filters 80%. The higher the film number, the more light it transmits and the lighter it is.
Sometimes our customers have other objectives as well, such as fading, heat control and/or privacy.  Concord also offers multi-purpose films which will control glare as well as heat and Ultra Violet light to reduce the fading of fabrics and furnishings.
Window Film to Reduce Glare and Improve Visibility
When choosing a film for glare control, consider the darkest film you are comfortable with. It is a common misconception that some darker films "ruin the view". In fact, the opposite is often true.
By way of example:  Have you ever driven your car on a sunny day wearing a pair of dark sunglasses to cut down on the glare?  Did you know that most good sunglasses actually block as much as 95% of the visible light?  Even with that much light being blocked, you can safely drive a car at highway speed.  Are the dark glasses "ruining your view"?
Of course not.  In reality, they are enhancing your view because they are blocking the excessive visible light (the glare) which can cause you to squint, making it harder to focus on well lit objects.
The reason for this is that the human eye pupil dilates and adapts to the reduced visible light.  You can filter out a large percentage of visible light and still see perfectly well. Therefore, when it comes to choosing a glare reducing film, the darker the better.  It will not ruin your view any more than your sunglasses do when you drive on a bright sunny day.  The key is to find a happy medium – something that will control the level of glare and keep the light levels in the room at comfortable levels.
Special Circumstances:  Glare on computer monitors or other viewing screens.
In some cases, you might have direct sunlight on monitors and/or displays making them hard to see.  In these cases, it may be necessary to not only use darker films, but to re-position and/or tilt displays and monitors so that they are not subject to direct sunlight. Even the darkest films may not be enough if the sun is directly on the monitor or display. The combination of the film and a slight offset works well most of the time.
Our "Featured Films" are the ones which are the most popular choices for glare control applications.  For those customers who prefer to select from a wider range of films, we list our entire glare control product lineup further down on this page.  If you have any questions along the way, do not hesitate to contact one of our solar control specialists.