How to Improve Employee Morale and Boost Productivity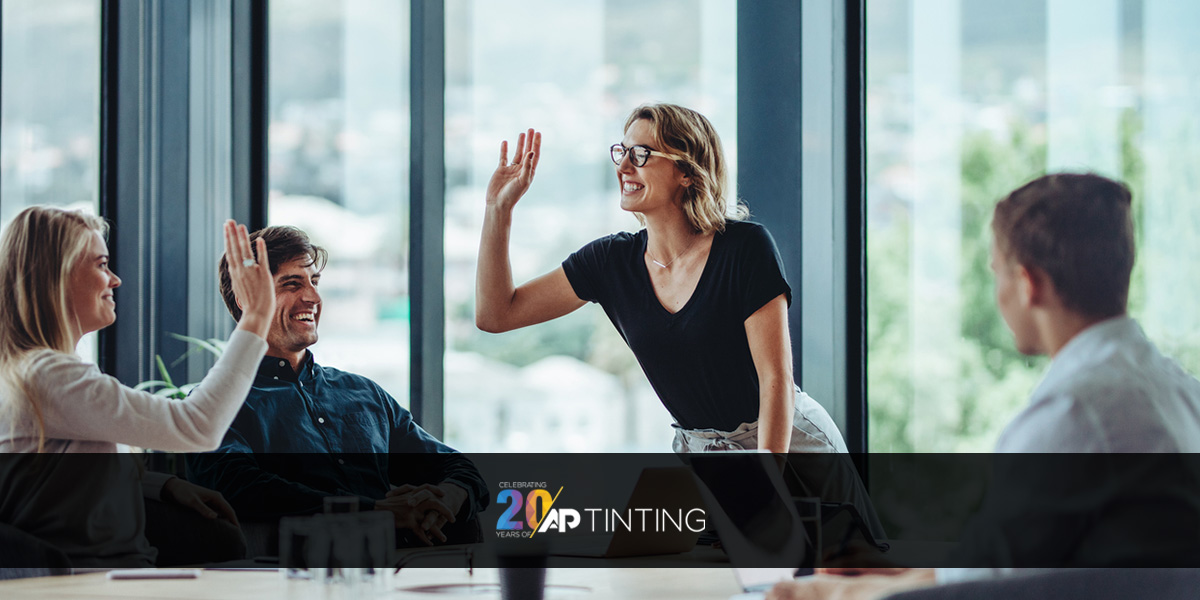 Employee productivity is key to the success of any business. However, improving employee productivity requires you to look beyond the figures you're trying to achieve. The best way to improve employee productivity is by boosting employee morale.
Morale is tied to several elements like job satisfaction, benefits and physical workplace environment. From the big picture to the small yet essential elements like the physical appearance of a workplace, a lot goes into boosting morale and how doing so affects productivity. This deep dive into the topic will explore vital concepts, give you some ideas to work with and explain how making the right work environment improves employee morale and productivity.
The Importance of Employee Morale for Productivity
When learning how to boost morale in the office, it is important to understand the necessity of morale in terms of productivity. Simply put, the higher employee morale is, the more satisfied they are. This makes employees want to work harder, thus improving productivity and making them less likely to want to leave your company.
When morale is low, you could see an increase in employee absenteeism, lower productivity, less job satisfaction and a lack of motivation. When morale is high, employees are more willing to put their best foot forward and give the company and their jobs more energy and effort. To achieve high levels of morale, your employees need a reason to be happy and to work hard.
Employees who feel comfortable, supported and valued and who have a worthwhile reward to work toward will be more productive. The right work environment helps keep morale high. At the end of the day, if an employee can say they are satisfied with their job and happy to work for you, then you have a good level of morale, which will reflect in their productivity.
Morale is a vital part of any productive work environment. However, remember that improving morale is something that constantly needs to be worked toward. There are no permanent solutions for boosting morale — you, as a company or leader, must show that you are willing to commit to making your employees happy.
How to Boost Employee Morale and Motivation
There are endless ideas for boosting office morale, productivity and motivation. When it comes down to it, all your employees want is to feel cared for, special, appreciated and comfortable in who they are while at work. They also likely want to balance their work and personal lives. Think about things from their perspective when coming up with ideas and strategies you can implement to improve their morale and their productivity.
The more ideas you have to work with, the more opportunities there are to find the strategies that best suit your company's goals and the needs of your employees. Here is a list of some of the most useful examples of how to improve employee morale which will impact their productivity: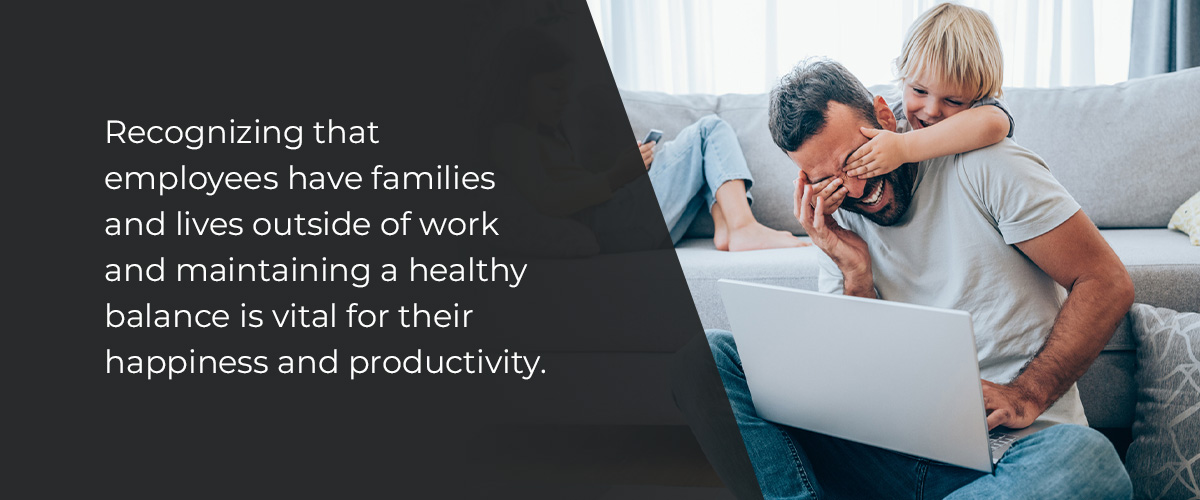 Foster a Better Work-Life Balance
One way of improving employee morale is to foster a greater work-life balance. Recognizing that employees have families and lives outside of work and maintaining a healthy balance is vital for their happiness and productivity. Offering flexible hours and prioritizing self-care, work-from-home policies and paid time off make your employees feel like you respect them and their lives. This can do wonders for employee motivation and retention.
Be Transparent
Transparency is key to good leadership. If your employees notice problems with office culture, be open and honest with them. Prove you care by telling them the truth instead of sweeping things under the rug. They will respect the company for this, which will help improve morale in the workplace.
Think Beyond a "My Door Is Always Open" Policy
Having an open-door policy is always a good idea. Giving employees a chance to talk to you about anything at any time is reassuring. However, taking this to the next level means going to employees and talking to them proactively. These "stay interviews" aim to learn why the employees stay, what they like about their job and what they would like to change. This can make a huge difference for employees.
Make Recognition Loud
You can find many employee morale ideas when thinking of ways to recognize your employees. Acknowledging events happening in their lives and work are essential to share. Encouraging success and growth means making people feel good about their progress and their small victories.
Support Employee-Led Plans and Initiatives
Looking for a reliable way to boost office morale? Have employees put forth ideas and initiatives about things they are passionate about. Encouraging the exploration and discussion of these ideas means the world to employees who have ideas they want to share.
Utilize the Power of Small Gestures
Show gratitude in a meaningful way. Employee shout-outs, acknowledging personal announcements, and making employees feel heard and appreciated go a long way toward improving morale at work.
Place Plants Around the Office
Having plants in the office has proven benefits on office morale and the mental health of your employees. Plants help reduce stress and anxiety, purify office air, provide a sense of life and do so much more for your team and office space.
Promote Laughter
Laughter is one of the most effective office morale boosters. Making employees feel like they can joke together and have light-hearted conversations at work makes the team feel more connected, builds employee relationships and makes the workspace feel like a happier place to be in. Having a dedicated chat channel on company platforms of jokes and office memes is a fun way of improving morale.
Make Professional Development Exciting
When looking for ideas on how to improve employee productivity, take a look at how your company handles career development. If you set achievable goals and make moving up in the business seem promising and worthwhile, your employees will be more motivated to reach those goals. Explain to employees how they can get noticed and gain new responsibilities in a motivating way that will improve their productivity.
Reevaluate Your Perks and Benefits
Employee perks — like flexible hours, free lunches or snacks, employee retreats, gym memberships, child care, and continued education — improve employee morale and employee retention. As a company, there are several perks and benefits you can offer your employees that will be greatly appreciated by them and improve their happiness and productivity.
Help Communities and Charities
Prioritize giving back to the community and working with charities. Learn how to boost team morale by giving back and showing your employees you care about your community. Involve employees in charity projects like building schools or participating in charity drives and fundraisers. Getting them involved gives them a sense of accomplishment and makes them feel better about themselves and their company.
Focus on Diversity and Inclusivity
If you want to know how to improve office morale, focus on diversity and inclusivity in your company. Making sure everyone feels welcome and able to be who they are will help employees feel comfortable and encourage them to build a closer connection with the company. Take the time to read through some strategies to improve equality in the workplace for a noticeable change in productivity and morale.
Schedule Regular Check-Ins
Chat with your employees regularly and check in on how they are doing. During these check-ins, give them feedback on their performance and interact with them. Sessions like these make employees feel noticed and appreciated. Remote workers, in particular, might need more check-ins, as they can feel isolated. Making them feel included will mean a lot to them.
Invite Guest Speakers
Arrange guest speakers to cover various topics in motivational speeches. Enrichment like this is critical for your employee's mindset. They can learn new ways to be productive or broaden their horizons by learning about something completely new.
Offer Fitness Breaks and Classes
Encouraging and providing active breaks go a long way toward how to boost office morale. Offering gym memberships, having weekly yoga sessions and encouraging employees to get fresh air during their breaks is a surprisingly effective way of boosting employee morale and productivity. It gets the blood flowing and releases stress, leaving your team feeling refreshed when they return to their desks.
Improve Breaks
Give your employees something to do in the office during their breaks. You might outfit the breakroom with a ping-pong table, board games, or recreational tools employees can use to unwind, bond with each other, and get more out of their short breaks. This makes break time more effective, meaning employees might take fewer breaks throughout the day, thereby improving productivity.
Change the Scenery
A change is as good as a holiday, so why not consider making big changes to your office? Updating a workplace's decor and appearance is one of the most effective ways to boost morale at work. Coming into the same office day after day can start to lower morale. Changing how your office looks can do wonders for keeping your staff happy and productive. It can even help boost employee retention.
Make the Office an Exciting Place to Be
When your office or work environment looks good, it helps your employees feel good. Updating decorations, making your workplace more comfortable and shaking things up go a long way toward improving morale. Window tinting, for example, can reduce screen glare, block out harmful UV rays and significantly improve the aesthetic of any workplace.
The Role Environment Plays in Improving Employee Morale
While a company needs to actively work toward maintaining high levels of morale, the best way to keep morale and productivity high starts with the work environment. A work environment with a positive feeling and the right atmosphere will establish a stronger sense of happiness, which has a long-lasting effect on the morale and productivity of your employees.
The lighting of your office and workplace can affect the mood and productivity of your employees. Natural lighting, in particular, affects mental health and wellness. Sunlight can boost serotonin levels, reduce stress and make us happier. The more natural light you have in your office, the more this impacts your employees.
Employees exposed to sufficient amounts of natural lighting throughout their day are in better moods more often, having greater job satisfaction and higher morale overall. Research also shows that sunlight affects employees' ability to focus and increases productivity. Natural light reduces eye strain, impacting our ability to focus and cognitive functions. For this reason, it is beneficial that offices and workplaces incorporate natural lighting to improve morale and productivity.
Tinting the windows of your commercial space allows natural light to shine through while also blocking out harmful UV rays which damage furniture and skin. Specialized window tints are designed to block out the sun while keeping the full effects of natural lighting.
If you want to find out how to improve employee morale, also consider the effects of color psychology in your office space. The colors chosen in your office have psychological implications and effects. You can incorporate appropriate colors by installing colored window tints, decorating with color-coordinated supplies and painting the walls a new shade. The right colors and color combinations increase productivity, boost employee morale and reduce stress levels in the office.
Another environmental factor that impacts employee morale is comfort. From the furniture to the lighting, there are a lot of variables that affect employee comfort. The perfect comfort levels make employees happy while inspiring them to work hard. The right window tinting significantly impacts how comfortable an employee is by reducing screen glare and office temperature and keeping their skin safe from the sun.
A comfortable and attractive work environment is sought after by many prospective employees. By mastering your office environment, you can boost morale, productivity and employee retention, making your business a desirable workplace. This makes it easier to find people willing to do a good job and attract candidates of a higher caliber, increasing productivity.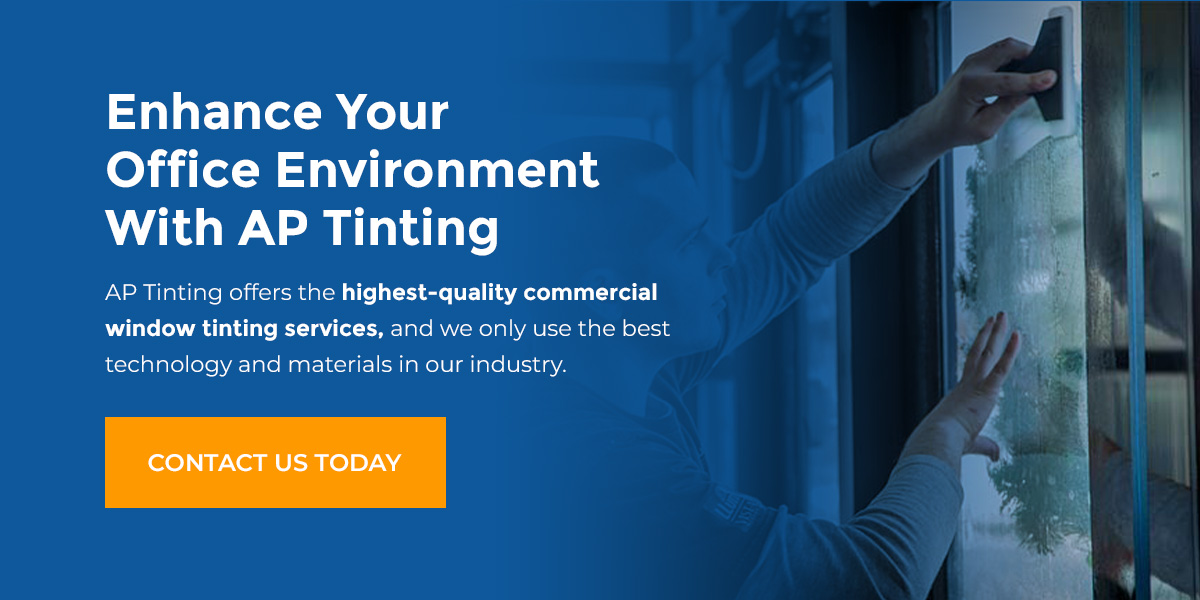 Enhance Your Office Environment With AP Tinting
AP Tinting has been in business for 20 years and counting. We know what it takes to last as a business and share your passion with the people who work for you. From our years of experience working with businesses, we can tell you how important employee morale is, and one way we can help is through our window tinting services.
AP Tinting offers the highest-quality commercial window tinting services, and we only use the best technology and materials in our industry. We take our work very seriously and pride ourselves on the effect our work has on our clients. We offer decorative services from wall murals, custom window prints and frosted tinting to practical options like solar and security window film installations. We also offer architecture wraps and DI-NOC finishes for your business.
We are a 3M-certified installer with the expertise, materials and services to make your employees happy, hard-working people who give their all to their work. Contact us today to learn more about what we can do for your company.
Tell us a little about your project...
Don't be afraid to tell us about your timeline and budget. We are straightforward about our products and pricing and knowing where you are coming from helps us hit the target.