How to Improve Home Safety: Start With Security Window Film
There are so many things to consider when making your Baltimore home as safe as it can be. But there is no doubt that your windows, the most vulnerable parts of your home, should be secured first. Home safety is at its finest when your windows remain harm free in the midst of an event where safety is at risk, and that's where security window film comes in.
Let Absolute Perfection help you on your path to home safety in Baltimore with security window film. Call us at (410) 549-4285 or fill out a contact form.
To Prevent Break-Ins
Not to scare you, but the 2013 FBI property crime statistics show that 59% of burglaries involved forcible entries, which includes shattering precious windows to break into a home. In the below video is a demonstration of the insane strength of security film in which a man attempts to break through a window by using all of his might.
Pretty intense, right? I think the poor guy did more damage to himself than the window! Security window films are made of heavy-duty polyester and applied to your windows with incredible adhesive. Although the window was broken during the forced entry, the security window film prevented shattering and flying glass by holding the broken glass in place.
An intruder truly wouldn't stand a chance against security window film!
To Protect Against Natural Disasters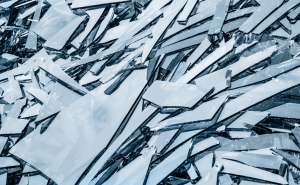 In the midst of a storm, high-powered winds carrying debris are a threat to your windows. Not only does a wicked storm that breaks your windows increase the chance of inside property damage, but it also risks the safety of you and your family.
Fortunately, security window film is a simple solution to mitigating that risk during a storm or natural disaster, because it will reduce the chance of window breakage, and it will hold broken glass in place.
Home Safety Hidden in Plain View
Another crucial factor of security window film is its transparency. Your windows still look as clear and clean as ever with the film installed on them. No one will ever know the difference—well, except our tinting experts!
Window Safety Means Home Safety
Security window film is the greatest first step there is to improving your home safety in Baltimore. In your home is everything near and dear to you: your family, your privacy, and your valuables. How about we get some security window film on your windows so that break-ins and weather-related damage are out of the question.
Improve your Baltimore home's safety with the help of Absolute Perfection. Call us about security window film today at (410) 549-4285 or fill out a contact form.
Tell us a little about your project...
Don't be afraid to tell us about your timeline and budget. We are straightforward about our products and pricing and knowing where you are coming from helps us hit the target.