Now Providing Custom Printed Decorative Window Films
The purchase of the brand new Wide Format Flat Bed HP Scitex Printer gives Absolute Perfection extensive new print production capabilities for custom printed decorative window films and graphics for office, retail, and commercial applications. This incredible industrial machine gives our team the ability to print with white ink, produce custom printed decorative window film designs in-house and print directly to substrates.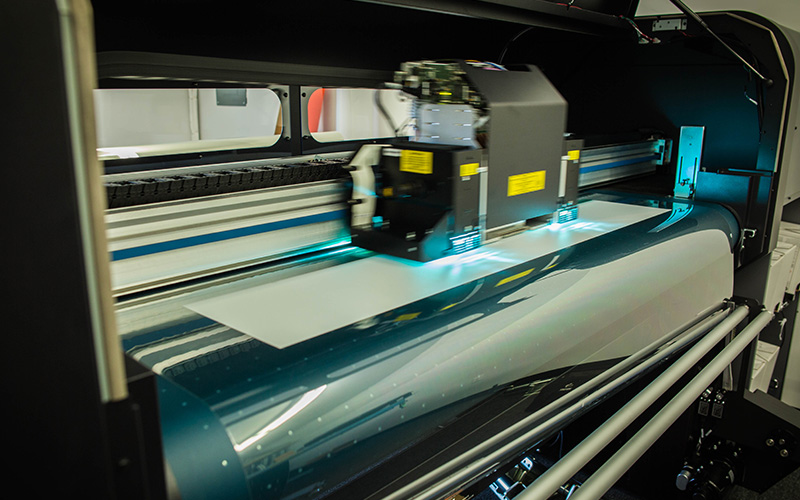 Close Up of the Printer
New In-House Printing with White Ink
Most printers can't print white ink. Printing with white ink allows us to take our unsurpassed design abilities and produce printed graphics in-house that reflect the level of expertise in design that we can offer. White ink accentuates and enhances printed graphics, adding dimension and pop that we previously had to outsource to achieve. This made production more expensive and lengthy, but now we can streamline each project with the same great results, as well as offer these printing services to other window film and graphics shops.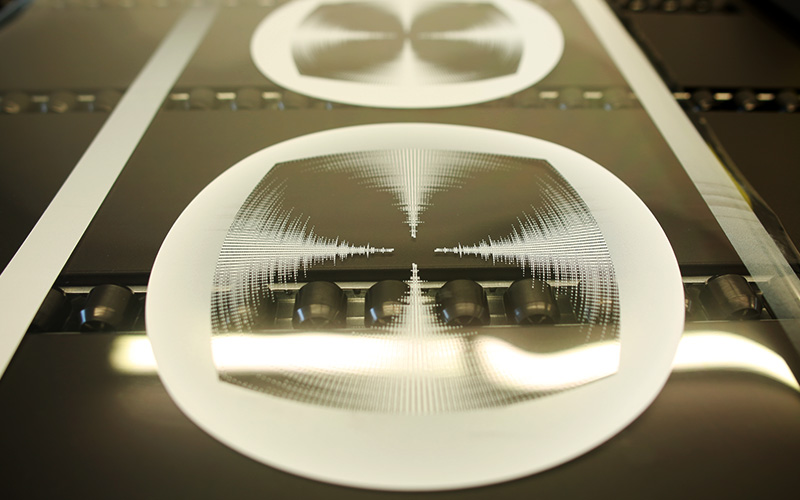 Printing With White Ink on Clear Film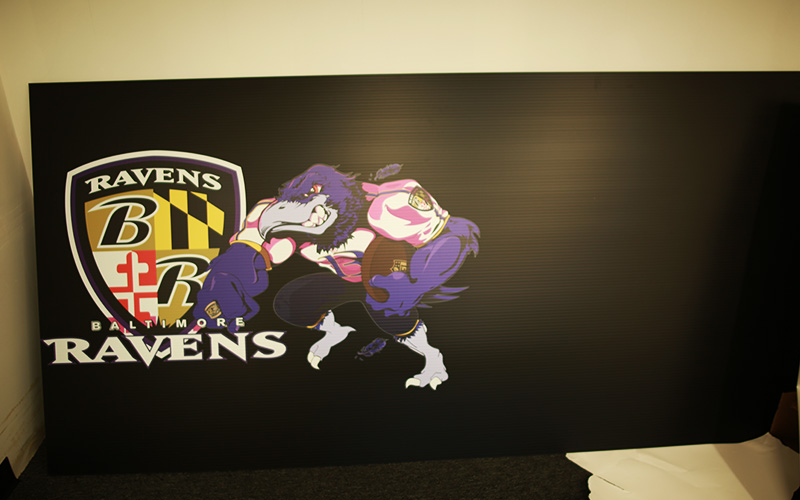 This Design Was Printed On Black Board with White Ink
Custom Printed Decorative Window Films & Graphics In-House
We already offer a wide range of pre-designed frost and decorative films, but when it comes to producing certain custom designs, we used to outsource our printing. Not anymore! With our new HP Wide Format Flat Bed printing capabilities we can design and print custom printed decorative film designs like the pictures below in-house! This cuts down on the time and cost of each product, allowing us to deliver custom designs quickly at an affordable rate!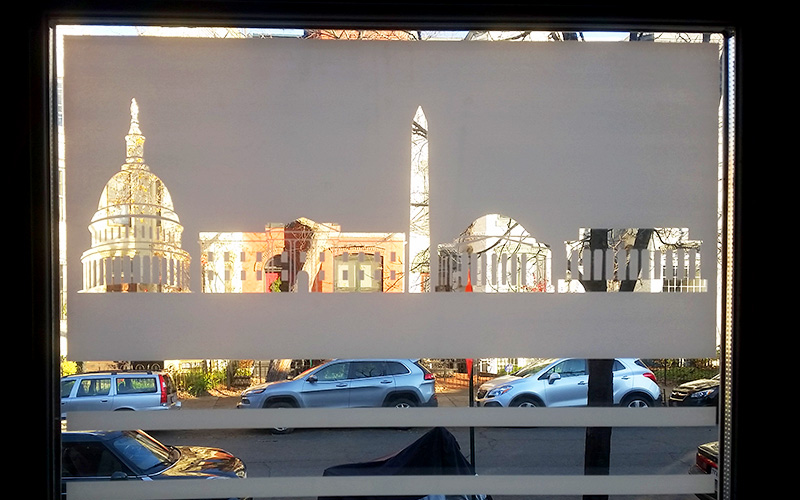 Custom Printed Graphics in Washington, DC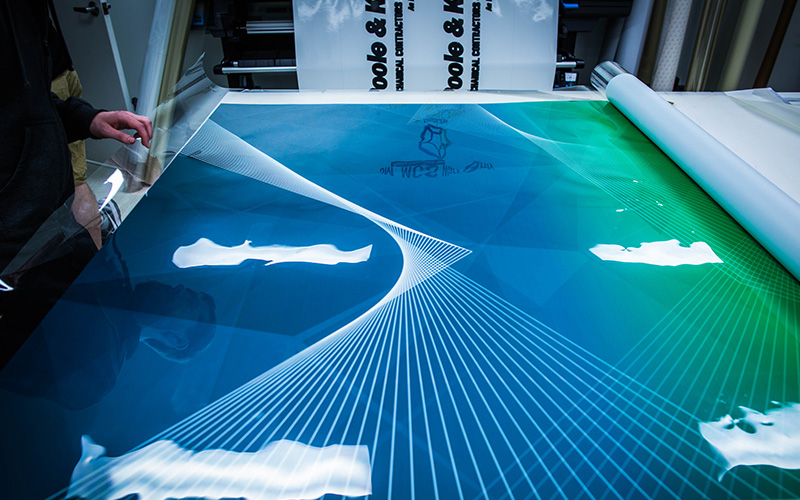 Custom Printed Decorative Window Film for SECU
Direct to Substrate Printing Capabilities
The production process for printing graphics on surfaces, such as foam board or other glass surfaces, can be long and labor intensive. From the printing and laminating phase to final installation, a lot of production time can be consumed. With this new flatbed printer, we can eliminate steps in the production process and print directly to glass surfaces, as well as many others.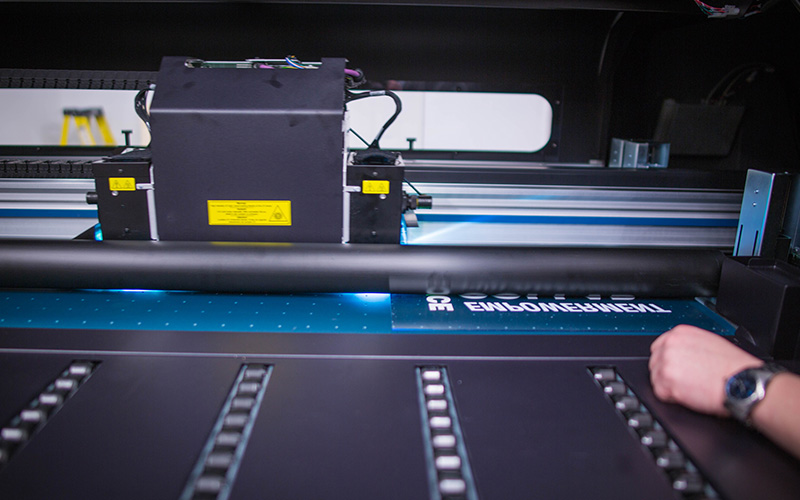 Printing Directly to Substrate
The Final Product with Production Manager, Steve Allia
The New Print Shop
Of all the finer things in life that get the royal treatment, this new printer is no exception. We even got a brand new house for our new printer and decked it out with a custom interior. As our company grows each day, we expand on our capabilities, we add to our workforce and we buy new buildings. Stop on by to our Sykesville, Maryland location to check it out!
Questions about our new custom printed decorative film and graphics capabilities? Have a project you want to work with us on? Give us a call at (410) 549-4285 or drop by our contact page to fill out a web form. We would love to hear from you!
Tell us a little about your project...
Don't be afraid to tell us about your timeline and budget. We are straightforward about our products and pricing and knowing where you are coming from helps us hit the target.