Does One-Way Mirror Tint Work After Dark?
Tired of feeling like you live in a fish bowl? Too many passersby peering into your private residence? There are a variety of ways you can add privacy to your home; but is one-way mirror film the best fit? And more importantly, will one-way mirror film work after dark? Regardless of what you've heard, the answer is no.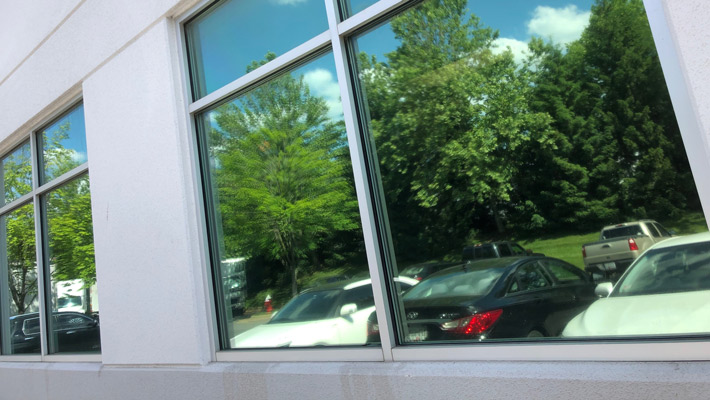 What is One-Way Mirror Tint?
One-way mirror tint is a variety of window tint which is applied direct to existing windows. The film is engineered to replicate the look of a mirror and works at it's best when light is brighter outside. In the home window film industry, this type of film is also commonly known as a reflective, dual-reflective, or one-way mirror film.
Will One-Way Mirror Film Work After Dark?
As mentioned above, one-way mirror tint works when light on the outside of the tint is brighter than the light inside. Put differently, it works when the sun is up. This also means that, at nighttime, the film does not provide the same level of privacy. Sure, it can be reflective to an extent. Yes it does still make the window darker, but the mirror-effective will not be the same.
Is there a one-way mirror tint that works after dark? No. It simply doesn't exist in our industry, and if someone says otherwise then please, call us! We'll happily talk with them and see if they're full of it—and if they're not we'll take 100 rolls of the stuff!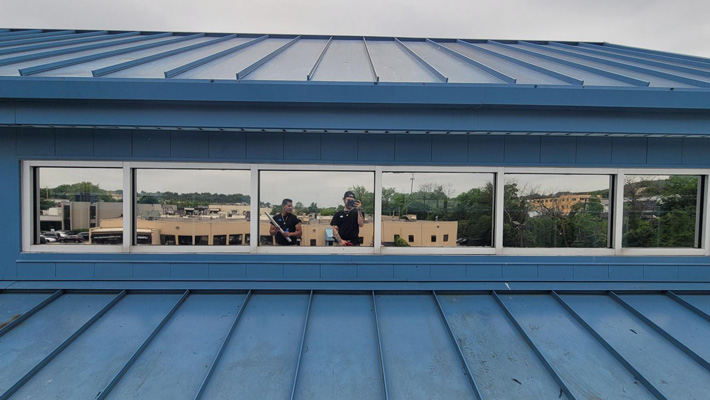 Will One-Way Mirror Tint Work at Night?
One would think, if the issue is an imbalance of light, you could add exterior lighting to get one-way privacy film to work. Well, we asked a local Maryland outdoor lighting company, about this and they said…
"You're basically trying to replicate the same amount of light that the sun produces. The amount of power and the number of lights you'd need to hit the windows… it would be absurd. It would honestly not be worth it at all if it would even work."
Ultimately, you can't force one-way mirror tint to work at night. It's just not physically possible if you still want to be able to see outside of the window. You can do things to make the film more reflective at nighttime—reduce interior light, add outdoor area lighting—but it will never match the sun's intensity.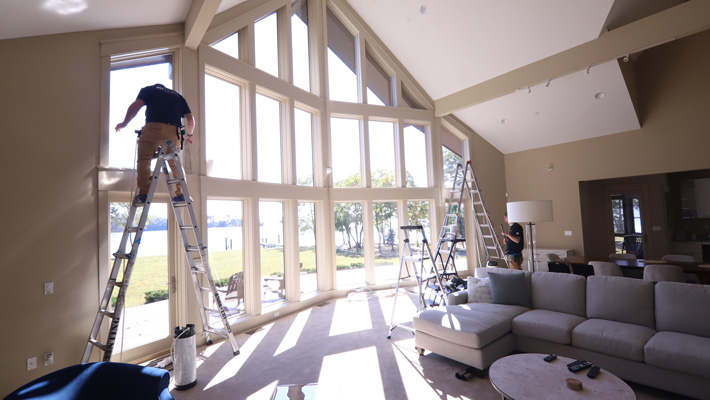 Why are You Getting Mirror Tint?
Sometimes it's helpful to take a minute to consider why you want one-way mirror film in the first place. Most homeowners like tint on their homes because they wanted privacy or heat rejection without the loss of their view. Well at nighttime, that view is usually non-existent. Blinds or curtains could be a good complimentary add-on here since using them won't affect your view at all when there's nothing to see anyways!
Not All About the Mirror
Home mirror tint does so much more than provide privacy! This type of window film also helps to block out UV rays and infrared radiation. Infrared radiation is the part of sunlight which creates heat when it hits a surface. So put differently, one-way mirror window film is very good at reducing temperature fluctuations in your home which leads to excessive HVAC bills.
AP Tinting is your Home Mirror Tint Company in Maryland, DC, and Virginia!
Here at AP Tinting, we provide warrantied and certified installation for a variety of home window tint. So whether you're looking for a solar window film or a reflective mirror tint in Maryland we can help!
Tell us a little about your project...
Don't be afraid to tell us about your timeline and budget. We are straightforward about our products and pricing and knowing where you are coming from helps us hit the target.