Prestige Window Films Spectra Photosync Tint
If you're looking for the best window film out there, you've found it. Spectra Photosync Tint is the latest in window film technology.
High Performance, Maximum Visibility
With Solar Adaptive Nano Coating, Infrared Ray (IR) Rejection Coating, and UV Protection, this incredible tint darkens when exposed to specific UV rays. It's like a cooler, bigger version of photochromic glasses – something you have to see to believe.
As a product of Prestige Window Films, a company with over 30 years of window film experience, Spectra Photosync Tint exceeds all expectations. Prestige Window Films Spectra Photosync Tint is available in 35%, 45%, 55%, 65%, and 75% with a Lifetime Warranty.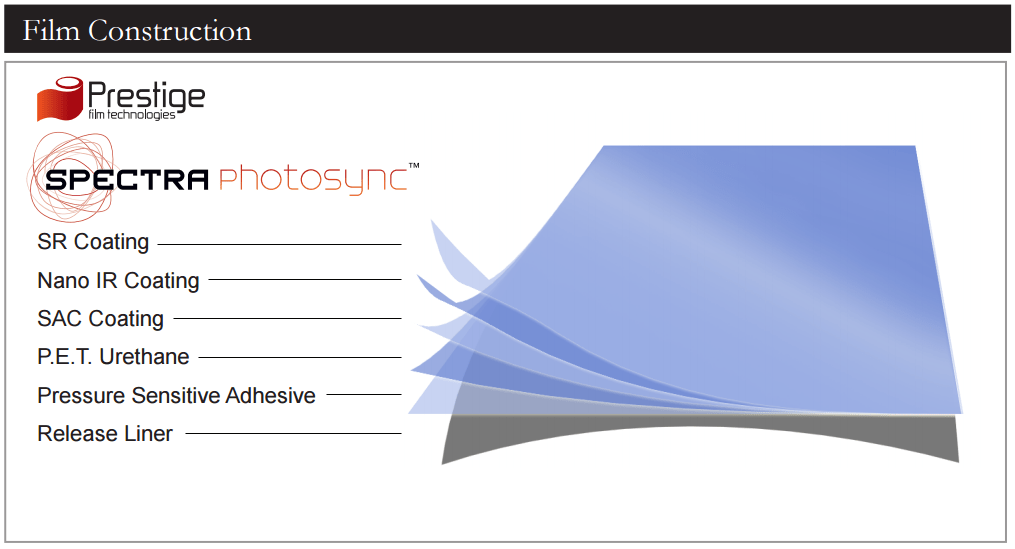 Photosync's IR and SAC integration creates an unsurpassed hybrid technology that accounts for up to 98.5% of infrared rejection. The technological advancements of this special tint allows for high performance without the use of metallics, meaning no interference with wireless transmission signals of your GPS, cell phone, radio, satellite, etc. The image above displays the many layers of Photosync tint, but what does it all mean…
What Is Photosync Tint?
Prestige Window Film's Spectra Photosync Tint has been 30 years in the making. Its impressive technological advances allow for high performance rates without using any metallics. So what does this mean? Photosync Tint won't interfere with wireless transmission signals such as GPS, cell phones, radio signal, satellite, etc.
What Is Solar Adaptive Nano Coating?
Solar Adaptive Nano Coating adjusts itself when it is exposed to certain wavelengths of the solar spectrum making it what we call a "Spectrally Selective film". High levels of solar exposure trigger the window film to adjust immediately, rejecting heat to match the solar intensity. The transitional effect of this film increases Total Solar Energy Rejection (TSER) by up to 79% while sustaining light and clear visibility.
What Kind of Protection Does It Offer?
Infrared Rays account for 53% of the solar spectrum, with Ultraviolet Rays and Visible Light tailing closely behind. Photosync's high IR rejection rate of 98.5% is a huge indicator of the products performance. Not only does it reject IRs, but Photosync tint also rejects 99.5% of all Ultraviolet Rays including both UVA and UVB rays.