Privacy, Design, and Elegance – Printed Frosted Film & Perforated Vinyl
Absolute Perfection just finished a printed frosted film, perforated vinyl, and cut lettering project for State Employees Credit Union (SECU) in Crofton, Maryland. The company was looking for a way to make their business stand out from the rest in the building while adding privacy and a touch of design.
Between Absolute Perfection's in-house graphic design team working one-on-one with SECU representatives and our 3M certified installers ensuring a convenient and efficient installation, SECU was able to achieve the desired results and were extremely happy with the end product.
Want to learn more about printed frosted film or other film options? Give us a call at (410) 549-4285 or click here to contact us online!
Printed Perforated Vinyl – Perfect for Storefront Windows
Printed perforated vinyl allows business owners to improve privacy without obstructing your view and increase brand exposure by turning your storefront into an eye-catching billboard. The sky is the limit with printed perforated vinyl. Have a look in mind? Bring that idea to life by sitting down with one of our graphic designers today!
Printed Frosted Film – Film with a Flare
This project started out as a printed design on clear window film. If soon became clear that frosted film was the only option for the desired look SECU was after.
Printed Frosted Film not only allows you to add privacy to your home or business, but it also gives you the ability to add any design you'd like to an elegant film. Check out how this printed frosted window film transforms the offices at SECU in Crofton, Maryland.
Before – Plain Glass Dividers                    After – Addition of Printed Frost Film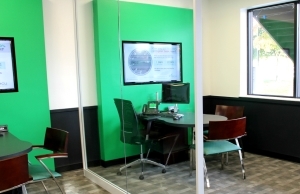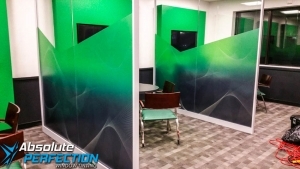 There are so many options with window film and vinyl. Absolute Perfection works hard to give your home or business the custom look you're after. Work one on one with one of our top-of-the-line graphics designers or speak with an AP representative to check out all the possibilities!
If you're interested in printed frosted film or other printed options, give us a call at (410) 549-4285 or click here to contact us online for a FREE quote!
Tell us a little about your project...
Don't be afraid to tell us about your timeline and budget. We are straightforward about our products and pricing and knowing where you are coming from helps us hit the target.