How to Reduce Heat in Your Sunroom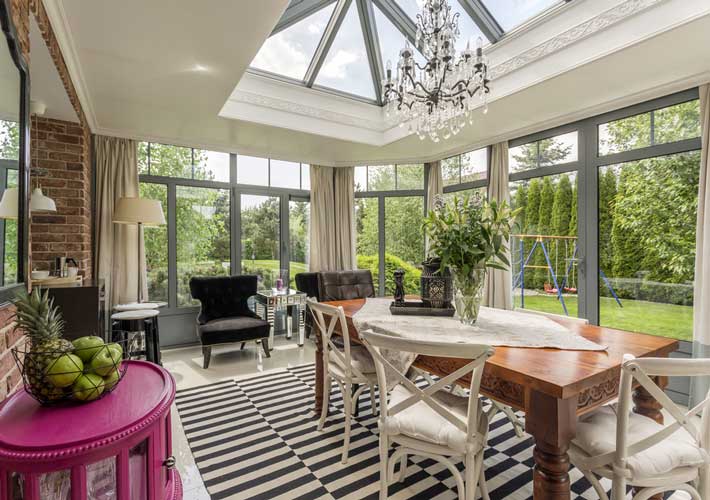 Do you have a room that gets a little hot when the sun is at its peak? One positive to rooms with many windows is a lot of wonderful, natural light—the downside is they must deal with the heat of the sun. Don't let the sun's heat chase you from your gorgeous sunroom! Instead, try some of these options to reduce heat in your sunroom.
Plant Some Trees
Trees and other shade-producing vegetation are a perfect way to cut down on heat. By blocking the direct sunlight, you are limiting the amount of sunlight (and infrared radiation) which is entering through the windows. It is this infrared radiation which heats up the room—effectively heating the air within. So, plant a couple trees, maybe a few shrubs or tall grasses, and throw a little shade on your sunroom.
Put up Blinds or Curtains
Curtains and blinds do a good job of blocking the direct sunlight which enters your home. Plus, you can match them to the aesthetic on your home ensuring an easy visual transition into your sunroom. Pulling blinds and curtains closed also offers privacy from neighbors. The downside is these elements block the view of and through your gorgeous windows and can fade their color over time.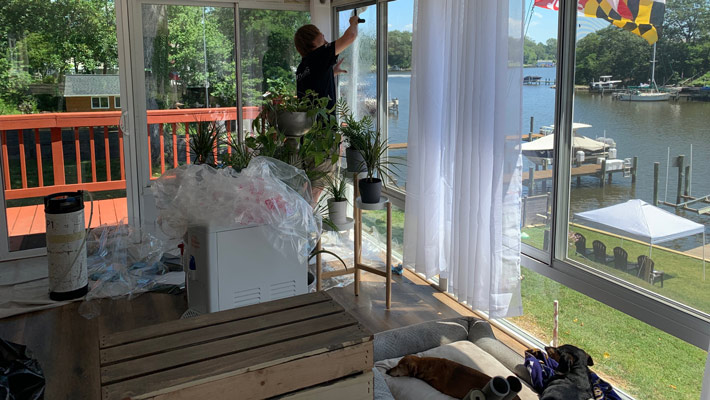 Replace your Windows
Windows will be the main cause for the heat gain in your sunroom. Older windows have very little insulating properties making sunrooms near impossible to keep cool. Replacing your windows will be expensive, but the replacement could pay for itself over time.
So, whether you are up-fitting your existing sunroom, or plan to upgrade your home with a modern conservatory, carefully consider the type of windows you use. Check the link in this paragraph for some good info on glass types. It also gives great advice on adding a new conservatory or sunroom to your home.
Install Window Films
Replacing windows too costly? Then install a solar window film. Solar window films filter out the heat-causing part of sunlight—so you can have your sunroom and enjoy it too! Put differently, window films block out the sun's heat but allow the sunlight to enter your home. Most of our clients don't really believe us when we say this, but they end up changing their tune when they experience the film for the first time: it's a difference you can feel!
Use Ceiling Fans
Ceiling fans are ideal for helping with air flow. They offer a gentle breeze that makes 78°F feel like 75°F. Simply set your ceiling fan to counterclockwise and it will push cool air down to the floor. This cool air creates a wind chill effect which makes you feel cooler without the need to run an air conditioning. Not to forget, ceiling fans are relaxing to watch spin: hypnotizing really.
For more help with reducing heat in your home or office, get in touch with AP Tinting today! AP Tinting is the nation's leading provider of window film solutions. So whether you need help with sun glare, reducing heat, or improving security, we can help!
Tell us a little about your project...
Don't be afraid to tell us about your timeline and budget. We are straightforward about our products and pricing and knowing where you are coming from helps us hit the target.