Should I Get Security Window Film in Baltimore, Maryland?
If safety in your commercial building is a high priority, then you understand that glass windows and doors are a weak point in your security plan. You can take control of your building's safekeeping with security window film in Baltimore, Maryland.
What is Security Window Film? How does it Work?
Security window film is an innovation in our industry, and it's taking Baltimore by storm. Manufacturers of security film abide by strict safety performance standards to create a product so strong that it holds glass together when it is broken.  These films are applied directly to the existing glass in your space and use specialized adhesives and attachment systems for increased security.
As incredible as these products are, they simply cannot prevent cracks or damage to your window overall. They will, however, hold broken pieces of glass together.
In the case of a break-in, the perfect storm, or even just a rogue baseball, security film will encapsulate glass shards, so they do not become projectiles. By making sure broken pieces of glass stay together, these films can slow down an intruder, prevent water damage in a storm, and stop projectile glass in its tracks.
When to Consider Installing Security Film
Frankly, we recommend considering security film as soon as you gain access to your space. No matter if it's a home, a storefront, or an office. Life happens, and it can, unfortunately, cause damage to your property.
If you want to know if it's the right time to install security window film, ask yourself these simple questions:
Have break-ins occurred in the area around my business? Lightning doesn't strike in the same place twice, but burglars do. If another business in your area has been broken into before, your space is at risk.
Has my space been broken into before? Like we said above, burglars have been known to come back to previous targets. If it's happened before, it will happen again.
What does my business do? If you run a business where cash and valuables are all around, you need to act.
How often is my space vacant? Burglars, usually, aren't looking for an altercation. They want to get in, grab cash and/or valuables, and get out. So, they're going to look for a target that is often vacant.
What's the weather like? We're not just trying to make small talk here, it's a serious question. Some areas of the city are more prone to flooding which can cause major damage to your business.
Do birds fly by during their seasonal migration? It's fun to watch the birds practice for their migration until one crashes into your building and breaks your window. While there are specialty films that prevent this from happening altogether, security window film is a good alternative.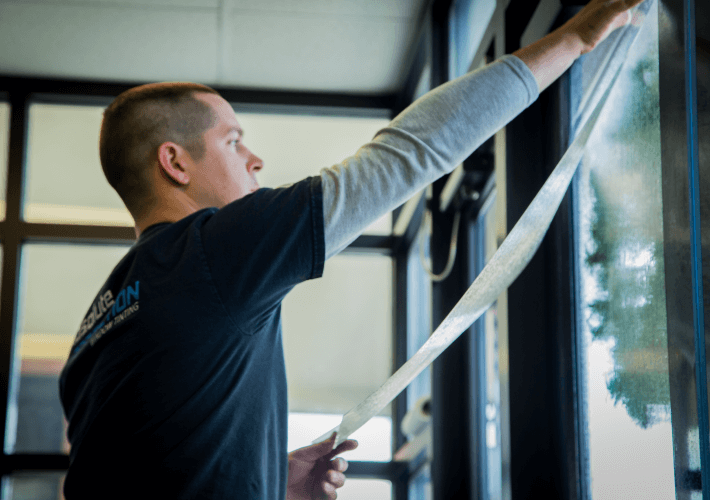 Security Window Film vs Tempered Glass
Tempered glass is amazing, don't get us wrong, but it's not the best choice for every business's security upgrade because it's expensive and a downright hassle. You simply don't need to go out of your way to get tempered glass if your commercial building's glass doors and windows are in good condition.
Security film exists as a happy medium between insecure glass and expensive tempered glass. In addition to being much more affordable, it can be installed by certified professionals in a fraction of the time.
Your Certified Baltimore Commercial Window Film Company
When it's time for you to explore your security film options, always look for a local, certified installation company. In Baltimore, Maryland, AP Tinting is your local security window film company. We are the leading provider of security film in the Maryland, DC, and Virginia, and region!
Tell us a little about your project...
Don't be afraid to tell us about your timeline and budget. We are straightforward about our products and pricing and knowing where you are coming from helps us hit the target.