A Solution for Spontaneous Breakage of Tempered Glass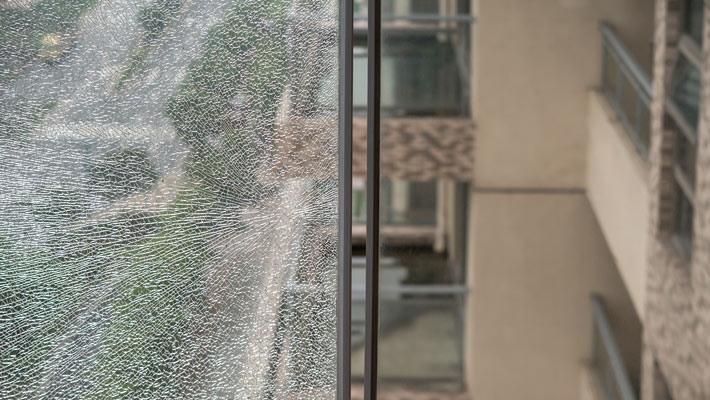 We've heard many stories of tempered glass spontaneously shattering. This 'shattering' has been described to us as sounding almost like a small explosion with a loud band and glass going everywhere. In hearing an increase in these stories, we wanted to shine some light on the cause of this issue as well as possible solutions for you and your business.
What is Tempered Glass?
First, let's define tempered glass. Tempered glass is a unique type of glass created to be stronger and, if it does shatter, it shatters safely. When tempered glass is broken, it will break into thousands of small pieces as opposed to large sharp shards of glass. This makes tempered glass the ideal type of glass for bathrooms, staircases, or really any glass used in a public space.
What Would Cause Spontaneous Breakage of Tempered Glass?
The root cause of spontaneous breakage of tempered glass has been narrowed down to two potential issues:
Cracks in Tempered Glass Causing Spontaneous Breakage
Any flaw in the edge or glass surface can cause spontaneous breakage. Small cracks in glass grow over time. As the glass expands in the heat and contracts in the cold this crack will grow. Eventually, this change in temperature can cause the tempered glass to shatter.
Nickel Sulfide Causing Spontaneous Breakage
Another cause of spontaneous breakage is a small bead of nickel sulfide. Nickel sulfide can accidentally be left in the glass when it is made. The reason nickel sulfide causes shattering of glass is that the metal will expand and contract at a different rate than the surrounding glass. This leads to violent, spontaneous shattering of tempered glass without any warning.
How Often Does Spontaneous Breakage of Tempered Glass Occur?
According to the US Glass Industry, glass breakage rates may be as high as 1%. That's a ridiculously high failure rate. Put differently, 1 in every 100 panes of glass in your building could just randomly shatter. That's assuming it is a flat 1 in every 100—and not like some of our clients who deal with multiple shattered glass panels in their building.
How Can I Prevent Spontaneous Breakage of Tempered Glass?
First, buy your windows from a quality window company. The glass and its installation will be of higher quality. You could even replace current glass with a higher quality, but there's still no guarantee. The real guarantee here is in preventing the dangers caused by broken glass. Install exterior window safety film to hold your glass together if it ever breaks. This film encapsulates your glass so if it does shatter, the pieces stay put.
What is Window Safety Film?
Commonly used to prevent burglaries, break-ins, and bomb blast shrapnel; security window films also help with spontaneous breakage. No, these films won't prevent a window from breaking, instead they prevent glass from raining down on people below. The week of writing this post, we are working with two clients who have spontaneous glass breakage and are installing exterior safety film as a solution.
AP Tinting is Your Certified Partner
At AP Tinting, we are the nation's most certified installer of window films. Whether it's solar control window films, frosted window films, or security window films, we have the manufacturer certifications and training to get the job done right. For more information on our services, give us a call today at 888-481-8468 or fill out the form below!
Tell us a little about your project…
Don't be afraid to tell us about your timeline and budget. We are straightforward about our products and pricing and knowing where you are coming from helps us hit the target.