What to Consider When Tinting a Solarium
Is your solarium getting a little too hot to handle? We can help! In fact, window film not only helps to reduce the amount of heat gain in a solarium, but it can also insulate your space in colder months too! Window films provide a wide range of improvements to your solarium from aesthetics to quality of life. Here we will cover all you need to consider when tinting your solarium.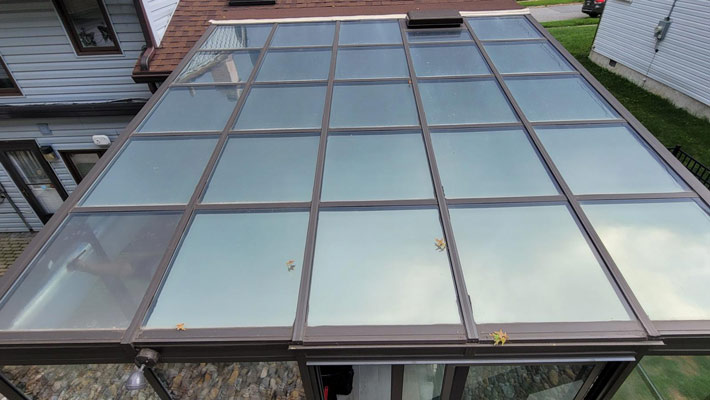 How much heat do you want to block?
Do you want 10% less heat? 30% less heat? Window tint can absolutely help cut down on heat—but it is important to ask yourself just how much heat you want to block. Window films offer many degrees of heat rejection to fit any need. So, whether you want to experience significantly less heat, or just enough to take the edge off, solarium window tinting will help.
Will you like the look of solarium window tint?
If the view out of your solarium is important to you, keep this in mind when selecting window tint. Whether you want to keep the natural look or enhance the view with a window film that acts like polarized sunglasses, there's a window tint for you. As an example, V-28 is a popular window film for solariums because it has a bluish-grey hue which enhances the sky making it just a tad bluer.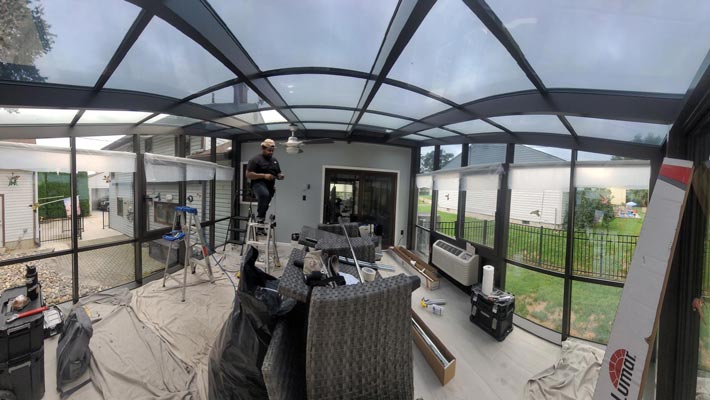 What is Your Budget?
Tinting a solarium involves a lot of windows—so it won't cost the same as tinting a car. This means it's important to know your budget going into the project. With your budget, an expert window tinting company can find you the best window film to fit your budget and your goals.
It's not uncommon for someone to underestimate the cost of tinting a full solarium. That said, with a set budget in hand, you can still achieve your goal without breaking the bank. As an example, if your goal is to cut down on heat, tinting the roof panels of a solarium usually knocks out the worst of the heat and can cut cost in half.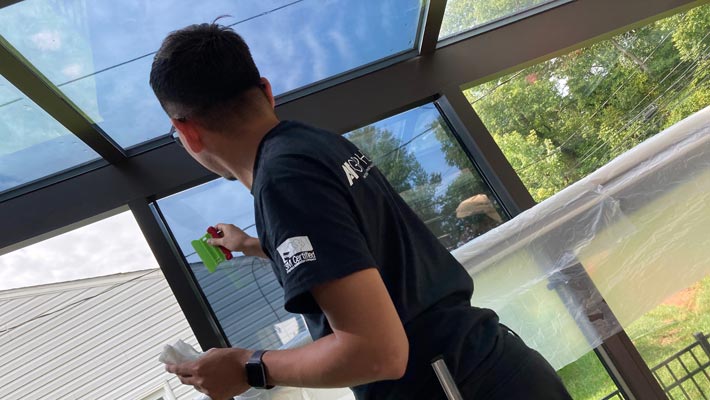 How Will Tint Affect my Solarium in the Winter?
One of the most common concerns with tinting is that it will make a room colder than normal in winter. The truth is the opposite. Window films not only cut down on the heat gain within a room, but they also help to prevent heat loss. Window film basically puts up a barrier which helps your solarium better control temperature.
What Type of Glass Does Your Solarium Use?
The type of glass your solarium is made from will also greatly affect the type of window film you can use. In fact, if you're using annealed glass, there are many types of window films you should not use! We have even seen window film recommended by an inexperienced tinting company that drastically cuts down on the heat; but also shattered the customer's windows!
This happens because certain window films hold a lot of heat which can cause annealed glass to spontaneous shatter. Here's more on annealed vs. tempered glass.
Does Your Window Tinting Company Have Experience with Solariums? 
While you could go with the cheapest possible solution—like doing it yourself—you shouldn't. The window films available to the consumer market do not even come close to the quality a certified tinting company can offer. In addition, if that tinting company doesn't have the experience of working with solariums they may not do as good of a job as one who does. Consult with your local certified window tinting company to see what experience they have.
Tell us a little about your project...
Don't be afraid to tell us about your timeline and budget. We are straightforward about our products and pricing and knowing where you are coming from helps us hit the target.