Absolute Perfection Vehicle Paint Protection Film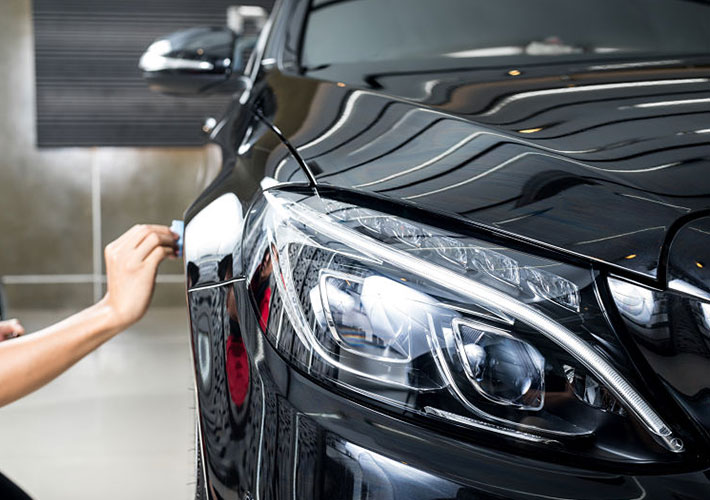 Vehicle Paint Jeopardy
You are driving down I-95 in your brand-new vehicle when you halt on your breaks, only to find that you are behind a dump truck filled with over a thousand pounds of gravel. Rocks trickle rapidly off the back of the truck and bounce onto the pavement in front of you. Your initial knee jerking reaction allows you to move slightly, but you cannot dodge the rocks. Consequently, they chip the fresh coat of paint of the front of your Rolls-Royce. Instantly the calculations in your head about trying to figure out how much it is going to cost to fix the damage consumes you. Absolute Perfection Vehicle Paint Protection Film could've prevented this unfortunate dilemma.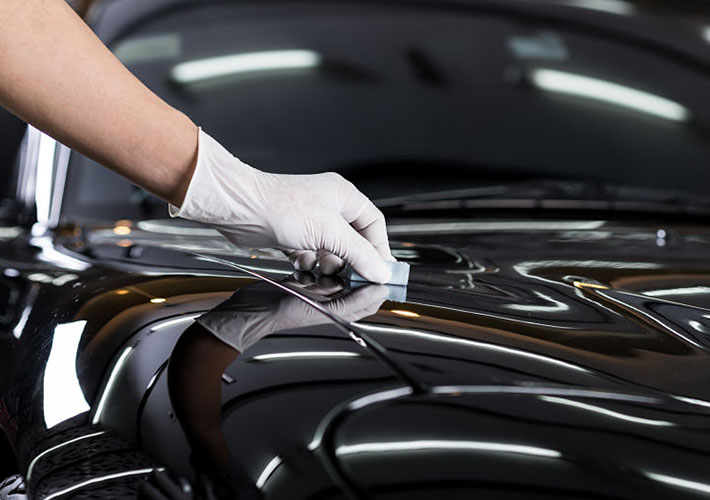 Absolute Perfection Vehicle Paint Protection Film Solution
This troubling scenario is one that our company has invested unparalleled effort into preventing from happening in the first place. Years ago, it may have been acceptable to put a heavy unattractive cover on the front of your car. With Absolute Perfection's Paint Protection Film as an option, those days of bulky vehicle covering are long gone. Our company is proud to be the leading provider in construction a solution to prevent paint damage from occurring and increasing vehicle safety.
"Absolute Perfection uses LLumar Paint Protection film, which is approved by all major automotive manufactures. LLumar Paint Protection Film is a clear-coated 8 Mil urethane film that is adhered with high performance, pressure sensitive adhesive that ensures long-term adhesion. Our Pain Protection Film is UV stabilized; therefore it will not discolor over time, and will allow the vehicle's color brilliance to show."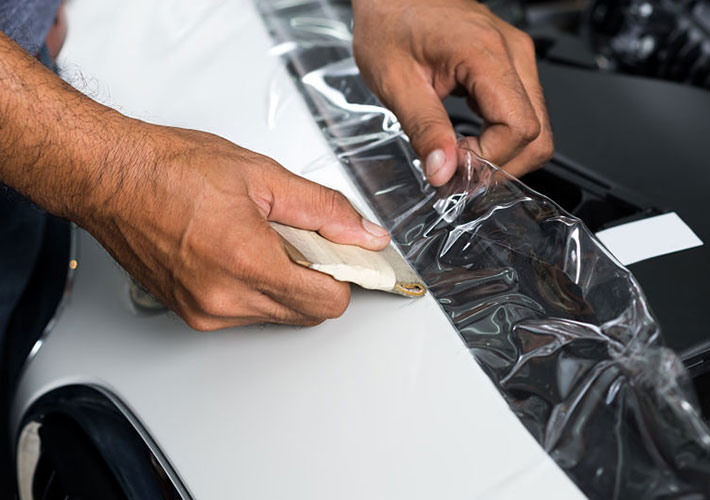 Paint Protection Film Information
Paint Protection Film acts like an invisible shield, enhancing the appearance of your vehicle while aiding in the preservation of its value. The properties of these films are flexible, thick, durable, and invisible. Investing in this Film will safeguard your vehicle against abrasions, nicks, scratches from small insects, small road debris, and winter sand and salt for year-round protection. Paint Protection Film is versatile and is perfect for vehicle hoods, fenders, mirrors, and front bumper to protect against flying road debris. Cover your Vehicle's back bumper, around door handles, and other areas subject to heavy use as possible damage.
Paint Protection Film Maintenance
Although Paint Protection Film is long lasting, it is not permanent and can be removed with ease if needed. Our film has the ability to resist impact up to 120 miles per hour and is a computerized design, to guarantee an exact fit. There are no surprisingly hideous guards or mechanical attachments; only clear, superior protection! Our company aims to make this process as secure as possible and protects your investment as LLumar offers a lifetime warranty, as well as a 7-year warranty on the labor.
For information, contact us today for a free estimate on paint protection film!
Tell us a little about your project...
Don't be afraid to tell us about your timeline and budget. We are straightforward about our products and pricing and knowing where you are coming from helps us hit the target.