What is Solar Window Film?
Want some ways to save on energy bills? Maybe you're tired of certain rooms in your home or office being so hot they are practically unusable. If your search has led you to hearing about solar window film, but you're still not sure if it's the right fit, we're here to help. Here we tell you all about what this window film is, as well as explain how window films work and their various benefits to you.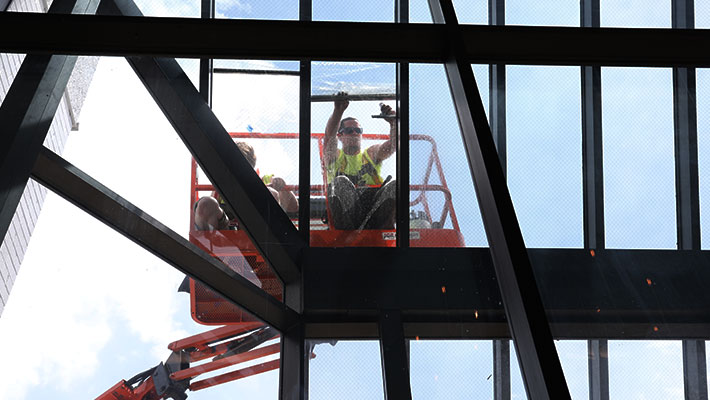 What is Solar Window Film?
Solar window film is a clear plastic-like film applied to your window. It is comparable to the screen protectors people put on their cell phones. More technically, it is a nano-ceramic film which is engineered to let the good parts of sunlight pass through, while rejecting the bad. This film is applied directly to your existing windows and works instantly to filter out the sun's UV rays, heat, and glare. 
How Window Film Works
Window films work by redirecting certain wavelengths of the sun's light away from your window. While visible light is permitted to pass through the tightly woven ceramic particles in the window film, other wavelengths get caught and bounce back out.  
Those 'other wavelengths' which are rejected by the window film are:  
Ultraviolet 

Radiation. 

Commonly known as 

UV rays

, this type of radiation 

caus

es 

skin damage and fading in flooring and furniture. 

 

Infrared 

R

adiation

. 

This wavelength is what causes the warmth on your skin when you're in the sunlight. Infrared radiation is also

 what causes heat gain in your building.

 

The Benefits of Solar Film
This type of window film provides many benefits to the buildings it is applied to. So, in addition to providing all the natural light from the sun, a new solar window film will also: 
Block out UV rays.

 

 

Filter out sun glare.

 
Lower 

your 

energy bills

.

 

Reduce overall heat gain.

 

Increase

 your

 

i

ndoor 

c

omfort

.

 

Stop your f

loor

s 

and furnitur

e from fading

.

 
Why Quality Matters in W

indow Films
When evaluating your options for a new window film, it's important to see quality first. The top manufacturers of window film are constantly competing in order to engineer the very best in sun filtering technology. While a quality window film may cost an extra $1 – $2 per sq. ft., the technology behind these films makes it worth it. 
Where to Buy Window Film
You can buy window film in a variety of places. If you're seeking a DIY option, your local home improvement store will have some type of window film although it won't be the highest quality. For a higher quality window film, you'll need to partner with a certified window film installer. We suggest seeking out a 3M certified window tinting company as 3M has a great certification program and can provide more peace of mind on your investment. 
Your Local Window Film Company
AP Tinting is your local window film company. Not only are we the top-rated Baltimore, MD solar window film company, we help companies nationwide. So, no matter the size or the scope of your project, AP Tinting is here to help! 
Tell us a little about your project...
Don't be afraid to tell us about your timeline and budget. We are straightforward about our products and pricing and knowing where you are coming from helps us hit the target.