What to Know When Tinting a Tesla
So you have done it! You finally got your hands on that brand-new Tesla! The one you've been eyeing for a long time. You pulled the trigger, and now it's yours!
You take it out for a spin, and the only thing that is spoiling this perfection is the sun glare in your eyes. This is a pain… You're going to need to add some tint to this gorgeous electric ride. You think;
"Is it hard to add tint to a Tesla? With all the new high-tech instruments and sensors?"
The quick answer is, No! Adding tint to your Model 3, Model S, Model X or Model Y is super easy!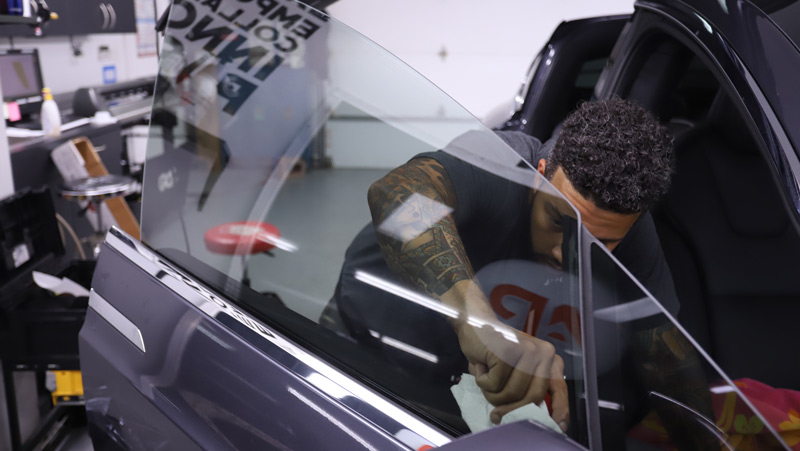 Why Tesla's Look Even Better With Tint
Tesla owners tint their automobiles for the same reasons other luxury car owners do. One of those being that tint really adds a unique look for the vehicle. Additionally, tesla window tint makes for a better ride! A quality window tint block out heat, shields against UV rays, reduces fading interiors, and cuts down massively on sun glare.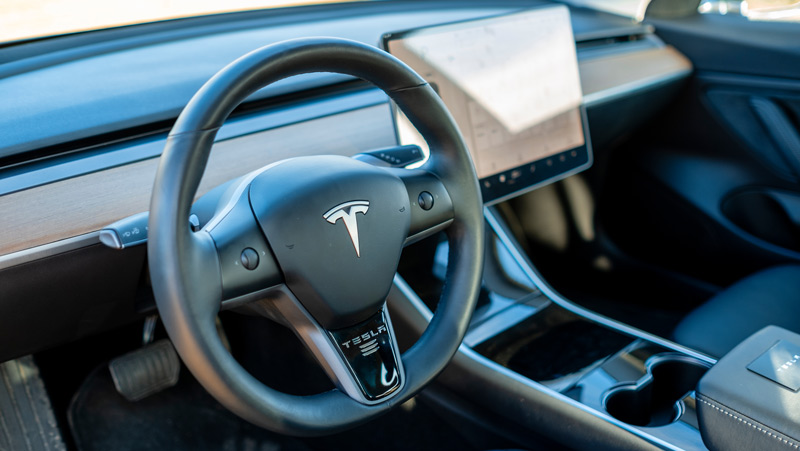 FormulaOne Stratos is Status
With so many Tesla's rolling into our bay every month, we tell you this with confidence—Tesla owners like FormulaOne Stratos. Here's why:
First off, Stratos is simply the best window tint money can buy. What makes Stratos unique is its dual-layer ceramic film. This ceramic film is engineered with a matrix technology that drives all of it's technical ratings higher than other films:
Rejects up to 63% percent of solar heat.
Blocks more than 99% of harmful UV rays.
Filters out up to 80% of glare.
Limited lifetime transferrable warranty.
Then, when it comes to the VLT (or darkness) of the window film itself, FormulaOne's Stratos comes in all basic shades. So not matter the look and privacy you want, you can achieve it with LLumar's Stratos window tint.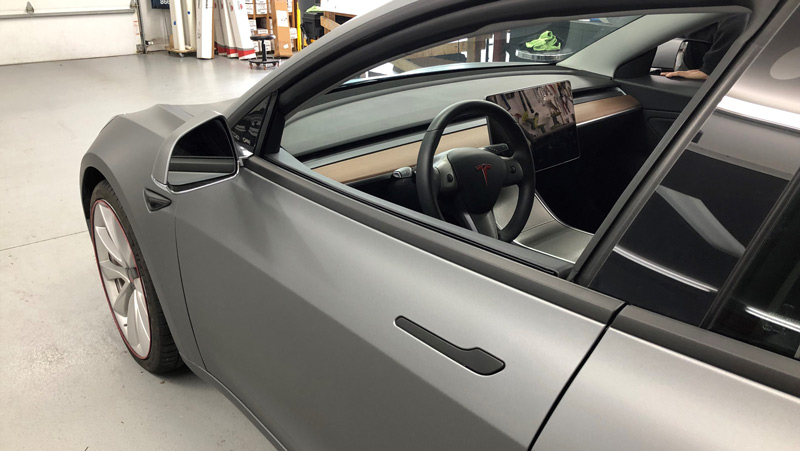 Metalized Window Films Not Cut-Out for Teslas
When tinting your Tesla, remember to avoid a metalized window film. With all the modern technology used in a Tesla, it's best to opt for a ceramic window film. LLumar's FormulaOne Stratos (listed above) is a great example of a quality ceramic window film that won't affect your vehicle's electronics.
That said, there are other options window tinting materials that will work as well! So be sure to consult with your Tesla window tinting company about the materials they will be using on your vehicle.
Tinting a Tesla With a Single Piece of Film
Seams in your window tint take away from the clean look you may be going for. Be sure to partner with a shop who knows how to properly tint a Tesla, because not every shop can. For example, when tinting a Model 3, you need to carry a larger sized roll of window tint that is only required for select few vehicles. Without this roll, a tint shop would have to make a seam in the center of the tint and use 2 pieces.
Another example is on the Model Y. The headliner prevents being able to tint the expansive glass roof in a Tesla Model Y with a single piece of tint. Most shops won't even touch this because you need experience in removing the headliner without damage. Additionally, because the roof has such drastic curves, the tint itself requires relief cuts to adequately shrink the tint to form to the window.
AP Tinting is Your Tesla Tint Shop
You bought a Tesla because you wanted one of the best cars on the road! AP Tinting is your local DMV and Baltimore, MD Tesla tint shop providing warrantied installation by certified installers. For more information, get in touch with us today!
Tell us a little about your project...
Don't be afraid to tell us about your timeline and budget. We are straightforward about our products and pricing and knowing where you are coming from helps us hit the target.