Commercial Wallpaper and Wallcoverings
How you present your business says a lot about your values and ambitions. Impress clients and win over customers by looking the part. AP Tinting offers a range of commercial wallcoverings and wallpaper to upgrade your commercial space. Find the right design and type of commercial wallcovering with AP Tinting.
Benefits of Wallpaper and Wallcoverings for Your Commercial Space
Businesses can benefit greatly from refreshing their commercial space with wallpaper and wallcoverings. Here are some of the reasons your business should embrace commercial wallcoverings:
Customized designs: Commercial wallpaper and wallcoverings can be printed with logos, high-resolution photos, images, graphics and limitless other customization choices. Create a custom wallpaper design that enhances your business's identity, values and personality. From bold bright colors to soothing patterns with cool colors, your options are endless with commercial wallcovering designs.
Cost-effective: Significantly improve the aesthetic, ambience and personality of your commercial space with this simple, cost-effective option. Wallpaper lasts longer than paint and requires less maintenance and touch-ups, reducing the money you'd spend on maintenance and supplies.
Durable: Our wallcoverings and wallpaper are designed to sustain daily wear and tear. Our durable commercial wallcovering choices will endure in heavy-traffic areas so you can rest assured your new design will keep looking great for a long time.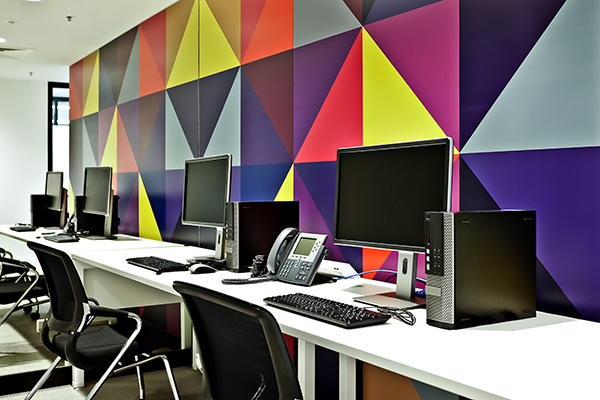 Trust AP Tinting With Your Commercial Wallcovering Needs
Our range of commercial wallpaper and wallcoverings can help your business achieve new levels of aesthetics. At AP Tinting, we pride ourselves on the quality of our work. When you trust us with your commercial wallcovering work, you can rest assured knowing we will install it properly without any bubbling, cracking or tearing.
If you're interested in adding window tints to your building, our technicians are more than happy to help. We'll discuss your objectives and find the ideal industrial window tint product. Get started with AP Tinting by requesting your free quote today. For questions or concerns, contact our team.
Request a Free Quote From AP Tinting Today
If revamping your commercial space sounds right for you, AP Tinting is here to help. Find out what we can do with your budget and your timeline. All you need to do is request a free quote today, and we can start making your vision a reality together.